Twelve minutes feels like ETERNITY when your house is filled with the smell of Garlic Spinach Chips baking in the oven. As I sat and stared at an entire bag of fresh spinach leaves and thought, "How am I going to get my family to eat all of that before it goes bad?" about 20 minutes ago, I had no idea that this is where I would be now. Salivating. Staring into the oven window, impatiently. Opening the door every 3 minutes to make sure everything is still there and not mysteriously eaten already.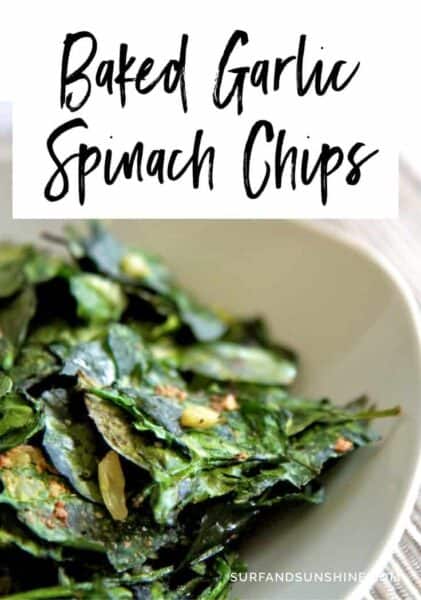 If you're looking at this photo and thinking that it doesn't look like an entire 9oz bag of spinach, you would be correct. It's not. I ate one chip, and then without even knowing it had inhaled about 50 more before I realized I had already eaten over half the bag. This is what's left and I'm sad to report that the only opinion on taste you'll get is from me because they probably won't last til Ben gets home. Go ahead and try them yourself and feel free to get creative with your toppings. Pre-heat the oven to 350 and grab some fresh spinach. I had a 9oz bag of pre-washed, ready to eat in the fridge, but you can do it the hard way and buy/clean a bunch by hand if you like.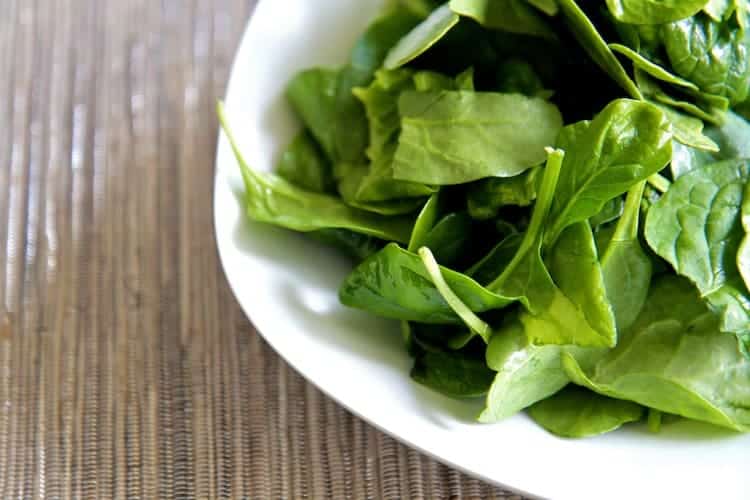 Most recipes will tell you to add olive oil and mix by hand in a bowl to cover. I'll be honest, after I took the above photo I threw the spinach back into the bag and added 2 tablespoons of olive oil (Thank you to Emile Noël Organic Olive Oil for providing product to use in this recipe!) directly to the bag and shook it around til everything was mixed up (why dirty up an extra bowl to wash?).
Most recipes also simply go with dry spices (like garlic powder) but I highly recommend that if you have fresh garlic laying around – USE IT. You can mince it or slice it, but either way it will taste one thousand times better than using Garlic Powder. Throw about 2 teaspoons worth into the bag and shake it up. Then place in a single layer on a cookie sheet lined with parchment paper.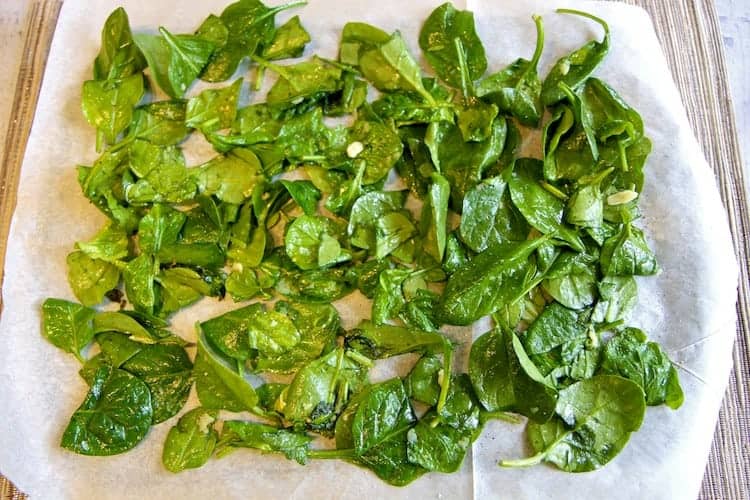 You don't want them to overlap, or else they won't get crispy. But as you can see, I wasn't too concerned with having them perfectly arranged. Add salt and pepper to taste and if you like spicy, try some cayenne too!
Bake at 350 for 12 minutes and then turn the oven off and let them sit for another 5 minutes.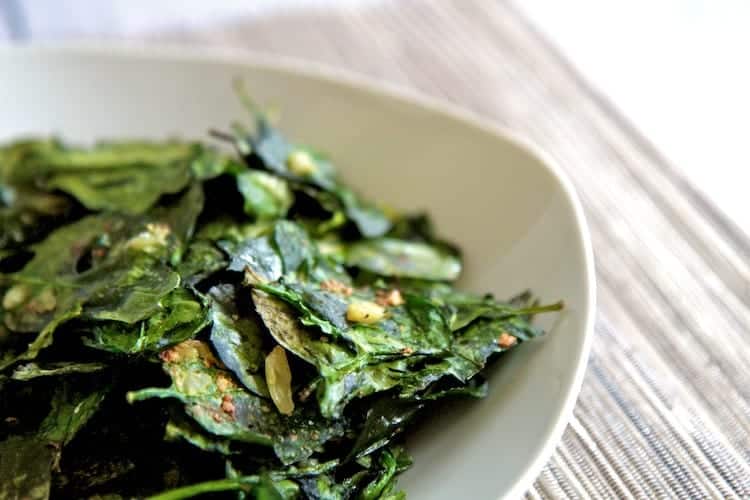 These taste amazing warm and I'm willing to bet you eat them all right up off the baking sheet (that's what I did!). They do tend to get a little soggy and absorb the moisture in the air so these are one of those things you want to eat immediately anyway.
Idea: I'll bet this would be amazing tossed with homemade Bacon Bits and put on top of your favorite hamburger! What do you think?