[wc_testimonial by="Dalai Lama" url="" position="right" class=""]
"Once a year, go someplace you've never been before."
[/wc_testimonial]
Its a beautiful land that is covered in rolling waves of sugarcane butting up against endless beaches of both the Caribbean and Atlantic Oceans.
An island that will interest your mind with its rich culture and history, captivate your taste buds with its Caribbean fare and enchant your senses with miles of lush rainforests, lava formations, seaside lagoons, and monkeys.
The charming island of St. Kitts is, in a word, engaging.
Fun Fact: Yes, there are wild African green (or "vervet") monkeys around every corner as their population is actually larger than the human residents of the island!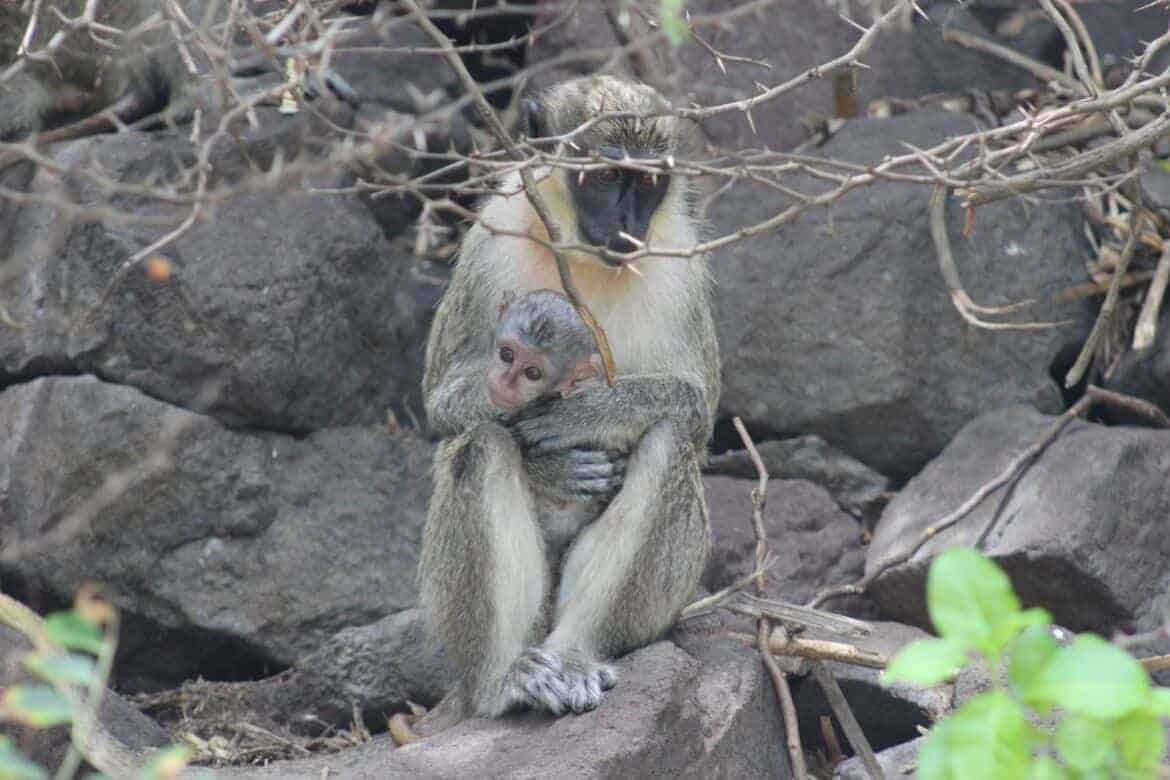 Where to eat
More than just a dining experience, Carambola Beach Club offers an ideal way to spend your day off the cruise ship or hotel grounds. Come in the afternoon for a light lunch and spend the day lounging amidst day beds, lounge chairs and love seats. Or hop into the Caribbean waters for some fun through the aqua sports facilities. After a day of entertaining yourself, you can freshen up at one of restroom facilities complete with a shower in preparation for their fine dining options available for dinner.
Carambola offers lunch and dinner in their beautiful restaurant on the beach. The restaurant features international cuisine with a Caribbean flair offering exotic appetizers like Caribbean Spiny Lobster Salad to traditional entrees like Beef Tenderloin.
Lying just a short way off the beaten path, about a quarter mile from the cruise ship port, lies the hidden gem that is El Fredo's. This casual dining restaurant offers fresh, authentic Caribbean food. It's one of those places the locals regularly dine and tourists consider themselves lucky to find. Outside it's brick enclosed patio the daily menu is written in chalk with daily specials such as stews, mutton, conch and chicken roti.
If fresh caught local seafood is what you're after, it really doesn't get any more fresh than at Sprat Net. This incredible fresh-catch restaurant 20 minutes north of Basseterre in Old Road Village is only open for dinner because the owners are fisherman who fish in the morning and then serve their daily catch in the evening. Options on the menu include bbq lobster, ribs, chicken, steamed catch of the day fish, and pizzas. It's all served up in a casual atmosphere complete with a full bar.
[infobox]Tip: Be sure to stay after dinner as the evening gets jumping with a live band and tons of locals stopping in to dance and sing the night away.[/infobox]
What to do
Brimstone Hill Fortress National Park
A UNESCO World Heritage Site known to be one the of the best preserved historical fortifications in the Americas. The construction of the Brimstone Hill Fortress began in 1690 and continued intermittently for just over 100 years until completion. Today, it serves as both a testament to the strength of the African slaves who built it and the British military who designed it.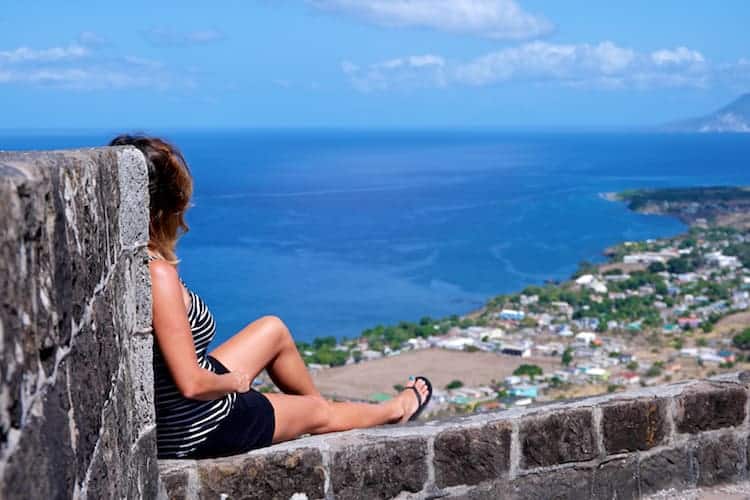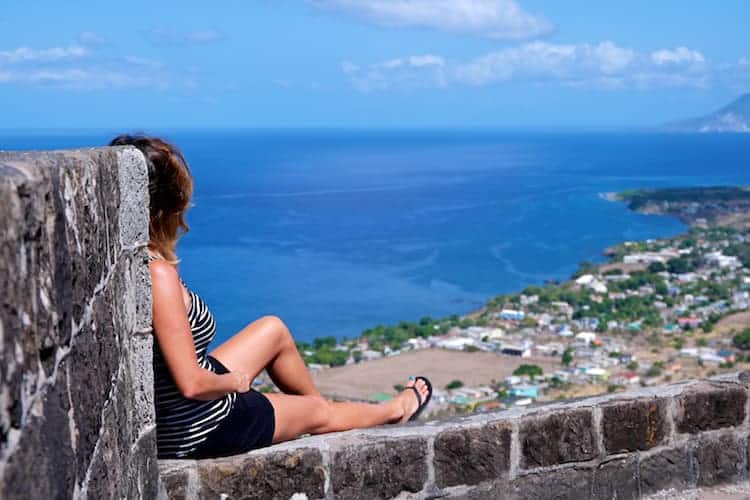 Sitting atop steep slopes featuring awesome panoramic views of mountains, fields, towns and the expansive sea, Brimstone Hill Fortress sits nearly 800 feet high. It's constructed of stone crafted from hard volcanic rock and limestone drawn right from the very ground it resides. As you reach the precipice and inhale it's salty air, there is little doubt as to why it's a winner of Trip Advisors 2015 Travelers Choice Award.
Timothy Hill
If Brimstone Hill is a testament to a creation made by man, Timothy Hill is a testament to the creations of mother nature. For full panoramic sweeping views of St. Kitts, Timothy Hill is just a short distance from Frigate Beach and features a stunning vista of where the sparkling Atlantic Ocean meets the incredible waters of Caribbean Sea.
Within the two bodies of water, you'll see lush, green foliage and the gently sloping hills of the southeast peninsula of St Kitts from your vantage point above. You'll even be able to see the neighboring island of Nevis in the distance.
St. Kitts Scenic Rail and Sail Tour
A four-hour excursion that covers a 30-mile circle around the island, you'll complete 18 miles by rail and 12 miles by catamaran on this popular attraction. Hailed as one of the most beautiful train rides in the world, the St. Kitts Scenic Railway was originally built between 1912 and 1926 to deliver sugarcane from the fields on the island to the sugar mill in Basseterre. Traversing tall steel bridges spanning deep canyons and winding thru small villages, the tour leisurely meanders along the Northeastern coastline, allowing you to get up close and personal with the island of St. Kitts before arriving at La Valle Station.
From there, travelers board a catamaran to sail along the western coastline where you can take in the Brimstone Hill Fortress from the sea along with extensive views of small fishing villages, abandoned sugar estates and steep mountain slopes. It also passes by Pass Old Road Town, the first British settlement, and sails around "Bloody Point", where the French and the British came together to destroy the power of the Carib Indians in 1626.
Where to stay
Located just 15 minutes from the airport, within walking distance of "The Strip" (where you will find a variety of restaurants and beach bars) and close to the many noteworthy places mentioned above resides the sprawling St. Kitts Marriott Resort and The Royal Beach Casino. This 389 room full-service resort is the perfect place to rest your weary head and spend your days off from exploring in it's relaxing environment.
For me, a tropical vacation is all about striking the perfect balance between adventuress exploration with a luxury resort experience. I want to spend my days hiking until my legs ache, devouring authentic foods like there is no tomorrow and then following it up with a recovery at the pool bar or 15,000 square foot Emerald Mist Spa.
[infobox]Insider tip: After a few days of island adventure, Emerald Mist Spa's signature bamboo massage is the perfect way to ease sore muscles.[/infobox]
The resort offers other on-site goodies to keep travelers entertained and relaxed including:
Championship 18-hole golf course
Eight restaurants and four bars
35,000 sq. ft. Vegas-style casino
Three tropical outdoor pools
Tennis courts
18-hour room service
And while I normally suggest that you eat off resort as much as possible, I have to point out this is NOT the case with the St. Kitts Marriott Resort and The Royal Beach Casino. Some of the best meals I have ever eaten came from the Bohemia Beach Pool Bar & Grille. Definitely give the blackened fish salad a go or the jerk chicken wrap – you won't be disappointed!
For a limited time, you can get the Summer Camp for Grown-ups package which offers adults a chance to feel like a kid again with s'mores by the bonfire – and have fun like an adult while they beach bar hop at the nearby "Strip".
The Summer Camp for Grown-ups package includes:
Accommodations for two adults
Daily breakfast for two in hotel restaurant
Cocktails for two at Beach Bar or Lobby Bar
Rainforest Hike for two adults
S'mores Kit to enjoy by the bonfire
Paradise welcome Kit including two bottles of water, sunscreen and aloe after-sun lotion
Round-trip transfers to nearby, popular Frigate Bay Strip
Rates start at $245/night, with a four-night minimum. This offer is valid through December 21, 2016. Be sure that promotional code PK3 appears in the Corporate/Promotional code box when making an online reservation. Click here for more information.
My visit to St. Kitts was hosted by St. Kitts Marriott Resort and The Royal Beach Casino. All opinions remain my own.