Disney's classic fairytale, Cinderella, is being released from the vault on DVD and Blu-ray on Tuesday. So to get in the "bippity boppity boo" spirit of things, here are some fun crafts and recipes for the kids!
Ever princess needs a crown, I know, because my daughter reminds me on a regular basis. Make an easy printable Cinderella crown with this template. Simply print out the crown on card stock or regular paper and cut it out. Add glue to the end tabs, then attach each extension on the correct end and glue into place. Measure the crown around your child's head, then tape or glue the ends of the extensions together. Bobby pins work great to help keep the crown securely on her head.
Of course your princess also needs a wand to make the magic happen. Download Cinderella's wand template and print it on card stock or paper, then follow instructions. You'll need card stock, scissors and glue. Use ribbons, glitter, jewels, or sequins to personalize it and make it sparkle.
Time to make some friends for Cinderella, like the 3D mouse Gus! Start with the Gus Cutie template, print on card stock and then use a craft knife to cut out the pieces. Follow the step by step instructions on the template for assembly!
How about some furry mice made from felt? A girl can never have too many mice around to assist with rescues, right? You'll need Jaq and Gus Mice Templates, felt (tan, pink, red, and green), hot glue gun, 2 small red pom poms, small kitchen funnel, dried lentils or rice, Googly eyes, tan or white cotton yarn and a wide-eyed sewing needle. Follow the step by step instructions at Disney Family Fun.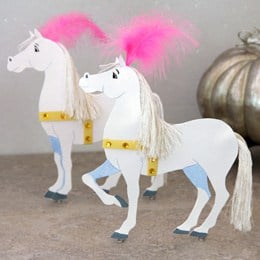 Now to get to the ball, a Princess needs reliable transportation, so let's make some horses. You'll need: the Template for Cinderella's Magical Paper Coach Horses, scissors, pencil, white heavy card stock, gray colored pencil, craft paint in dark gray and blue gray colors, fine-tipped black marker, glitter glue (optional), Glue sealer (such as Mod Podge) and medium-size paintbrush or foam brush,off-white and silver embroidery floss (they recommend a mix of cotton and shiny rayon floss), Glue dots, pink craft feathers (or paper feathers), pinch-style clothespins (for holding the glued pieces together), 2 paper clips, pliers, good quality glue stick or tacky glue ,gold or yellow craft paper and yellow faux gems. Follow the step by step instructions at Disney's Family Fun.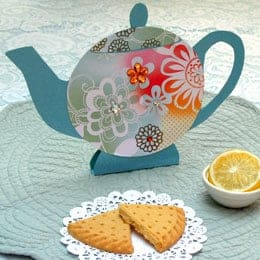 Having a princess party for your little girl? The stand up teapot would be a fun party craft the girls could design and decorate together. First, print the Pretty Paper Teapot Template on card stock. You'll need: scissors, pencil, card stock (solid color), scrapbook paper (printed with a decorative pattern), Glue stick and small faux jewels with adhesive and/or decorative stickers. Follow the step by step instructions at Disney's Family Fun.
Make this adorable Cinderella ribbon hair clip, great as an accessory or party favor! You'll need: thin yellowish gold ribbon, thin baby blue ribbon, thin cream ribbon, thin white ribbon, hair clippies (or a headband, magnet, clothespin), hot glue gun and glue, scissors and lighter to keep ends from fraying. Follow the step by step instructions at Entirely Smitten.
Planning a Cinderella themed party and need some party food recipes? Check out these adorable mice made from a cheese wedge by Cute Food for Kids. You'll need these ingredients: Happy Cow cheese wedge, olive, black sesame seeds, hot dog and green onion.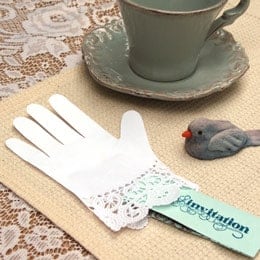 Whether you're throwing a tea party or a birthday party for princesses, you'll need to make some invitations. To make these lacy paper glove invitations, you'll need: Paper doilies, pencil, scissors, glue stick, lightweight craft paper or stationery and colored markers. Follow the instructions at Disney Family Fun.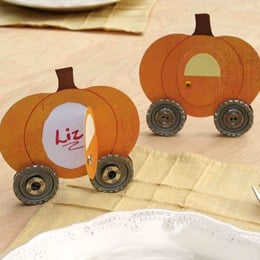 Now, you'll need some place cards so your guests know where to sit. I love these adorable pumpkin coach place cards made with scrapbook paper and bottle caps. You'll need: Template for Pumpkin Coach Place Cards, scissors, craft or scrapbook paper (orange and yellow), brown and orange colored markers or pencils, Craft knife, glue stick, Flattened bottle caps or 1.5-inch silver/gray card stock or poster board circles (4 for each place card), buttons (4 for each coach) and small faux gems (optional). Follow the step by step instructions at Disney Family Fun.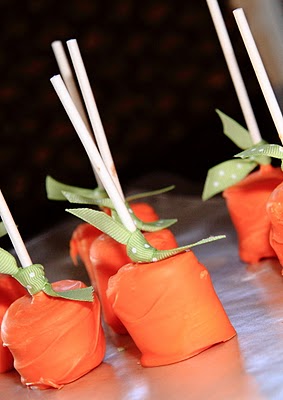 Pumpkins aren't just for Halloween, you could make these chocolate covered marshmallow pumpkins for your Cinderella tea party. For these you'll need: large marshmallows, Melting Chocolate in your desired color, Lollipop sticks and your decorations of choice (ie. sprinkles, ribbon, etc.). You can find complete instructions at Betty Crocker Wannabe.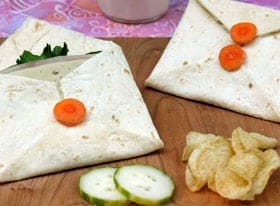 There are so many fun options for sandwiches, you can use a cookie/sandwich cutter and make them in the shapes of shoes or crowns or make invitation sandwiches! To make these sandwiches you'll need: Invitation Envelope Template, Tortilla or flat bread, Cream cheese, softened, slice of ham, slice of cheese, a lettuce leaf, and a baby carrot. Follow the directions at Disney Family Fun.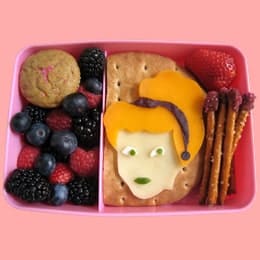 How about a Cinderella Bento box with berry jewel bracelets, fairy godmother pretzel wands, a pumpkin mini muffin and a sandwich with Cinderella topper? To make the Cinderella sandwiches you'll need these tools: Cinderella template, cutting board, small sharp knife, spreader, cookie cutters if desired. Ingredients used two slices of bread, cream cheese, thinly sliced cucumber, two colors of cheese, boiled egg, cucumber, and red lettuce. For the pretzel wands, I'd probably dip them in blue or white chocolate instead!
You won't have trouble getting the kids to eat veggies with these adorable potato mice! You'll need the following ingredients: 4 medium baking potatoes, 1 tbsp oil, 2 tbsp butter, Half cup milk, Half cup grated cheddar cheese, cherry tomatoes, chives, radishes, raisins and green onions. Follow the cooking instructions at Disney Family Fun.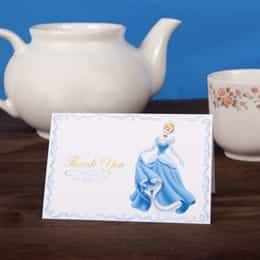 Now, make sure and thank your guests for coming to you party with these printable Cinderella thank you cards!
Do you have any crafts or recipes for princesses?