We've created a 3 free Elf on the Shelf arrival letters for families who are joining in on the fun this year.
**We also have the Elf on the Shelf Return and Goodbye letters too – scroll to the bottom for links***
It's that time of year again! The mischievous little Elf on the Shelf is back.
If you are new to this annual Christmas tradition, then you've cone to the right spot.
You will quickly find out that while having an elf in your home can come with some great benefits, it's also a lot of work!
From messages from Santa, to letters from the elf, to figuring out new ideas for what the Elf on the Shelf will be doing the next morning – there is a lot that needs to be thought of and taken care of.
How Does Elf on the Shelf Work?
If you don't know what Elf on the Shelf is, it is a Christmas tradition where Santa sends an elf from North Pole Village to watch over children throughout December so they stay out of trouble and behave.
Each evening after the children have gone to bed, the elf is put in different places around the house as "evidence" that he went home to the North Pole to report to Santa.
This also gives the children something to look forward to each morning because each day something new happens to the elf.
Some elves are good while others like to get into a little mischief themselves.
For example, he might be sitting in the window one morning and found jumping out of the toilet the next.
If you want help with daily ideas and getting your child to engage with the Elf (without touching!), try our Elf on the Shelf Daily Note Cards.
If you're in need of some fun Elf on the Shelf ideas, check out our posts on 9 Awesome Elf on the Shelf Ideas or 25 Fun Elf on the Shelf Ideas for inspiration.
How do I introduce an Elf on the Shelf to my child?
Your Elf on the Shelf will come with a book and directions.
Definitely read through the instructions before introducing the elf to your kids, but here is a summary of what you need to know:
The elf is Santa's helper. They will report both good deeds and bad each night when they magically fly back home to the North Pole.
The kids should find the elf in a new spot each morning as "evidence" that they went home and came back.
The elf can not be touched, or he will lose his magic and then will not be able to fly back to the North Pole.
The elf needs a name in order for the magic to start.
The Elf on the Shelf usually arrives just after Thanksgiving or on December 1 and they will stay until Christmas Eve.
Elf on the Shelf Arrival Letter Ideas
The elf arrives with a letter that explains his purpose in coming into your home.
A sample letter you could write would be:
Hello! 

I'm a scout elf from the North Pole. 

Santa has asked that I live in your home from now until Christmas. 

He wants me to keep track of if you're naughty or nice and report back to him each evening of my findings.

I'm so happy to be here. All you need to do is give me a special name so my magic can start! 

Love, Your Elf

PS - Please don't touch me. If you do, I'll lose my magic and won't be able to fly home :(


Elf on the Shelf Arrival Letter Templates
While some parents are crafty enough to think up these arrival letters themselves, I know some of you may be looking for HELP. haha!
So I sat down and made up a poem to use and made it all cute and festive in these fun little Elf on the Shelf arrival letters that you can print at home.
These Elf on the Shelf arrival letters are great way to start off this family tradition or continue developing it if you have already started using one.
This is an original poem that I made up (so please be thoughtful and give credit if you choose to "borrow" it for your own website or blog).
I have made 3 versions to choose from, all on the same PDF download.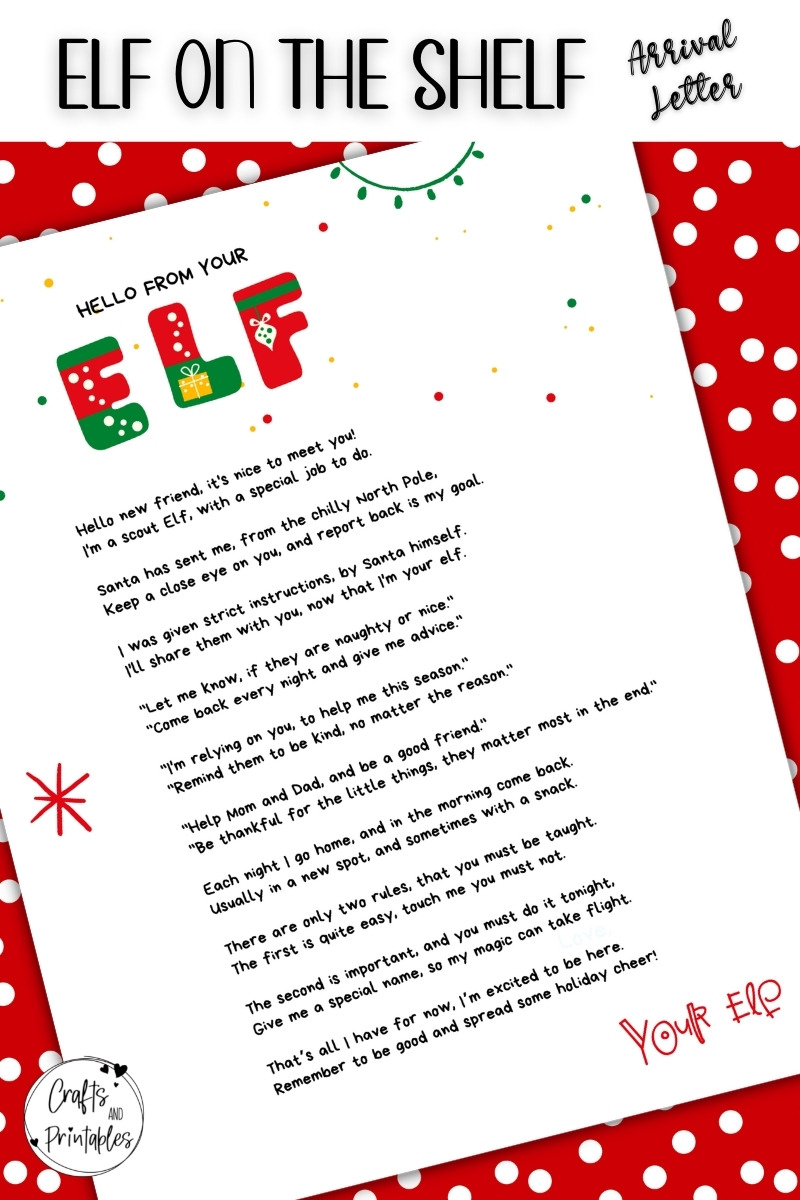 To download the free Elf on the Shelf arrival letters printables, just click the button below.
Happy elving!
More Elf on the Shelf Letters
Elf on the Shelf Annual Return Letter
This letter from the elf is for families that have already started the tradition and the elf is returning for another year.
You can find our matching Elf on the Shelf Return Letters here.
Elf on the Shelf Goodbye Letter
This letter is given on the elf's last night in the home (usually Christmas Eve or the night before).
You can find out matching Elf on the Shelf Goodbye letters here or write your own!
Sign up for my new Crafts and Printables blog newsletter if you want to be notified when new printables are available to download!
More Christmas Crafts and Recipes