*This is an older post that I have cleaned up and updated the Toy Story Alien template and made it easier to download. Enjoy!
In planning for my #DisneyPaintMom Buzz Lightyear Themed Bedroom unveil party, I came across some really fun Disney Toy Story
themed party ideas.
Parties featuring everything from Buzz Lightyear, Woody, Bo Peep, Mr. and Mrs. Potato Head and all the other cute characters.
My favorite characters from the Toy Story movies are definitely the aliens. I ended up falling in love with the idea of making our party centered around the aliens from Toy Story.
One of the best Toy Story crafts I found were these adorable Toy Story Alien Gift Bags that I had seen others make on Pinterest.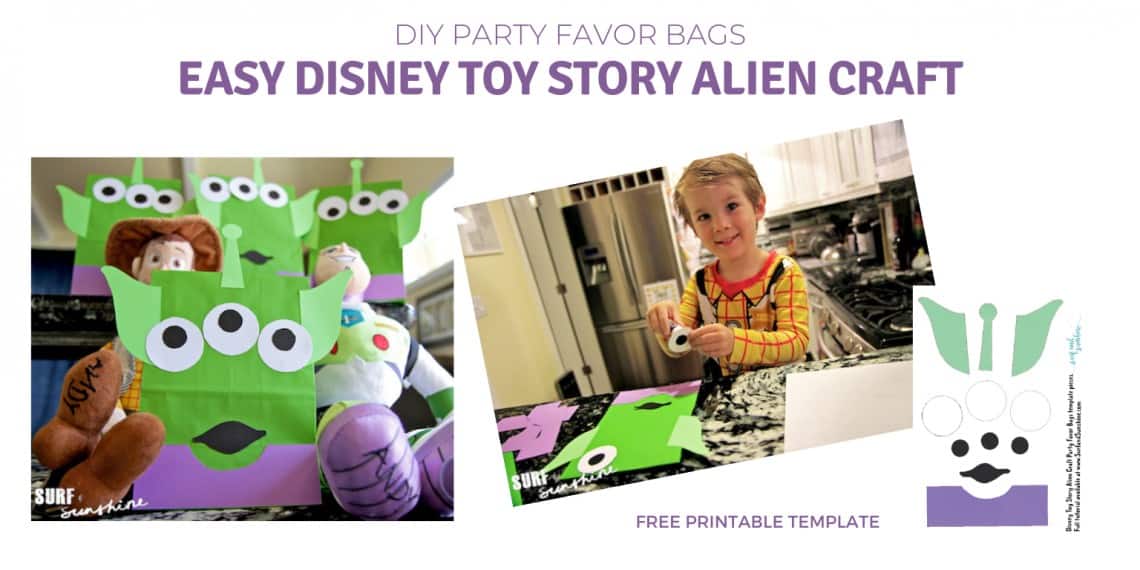 Unfortunately, no one seemed to offer a tutorial or printable template on how to make them yourself (back in 2013), so I decided to go ahead and make my own. I'm crafty when I want to be!
I intentionally made this tutorial to be something easy for you and your children to be able to follow along with.
Pin me for later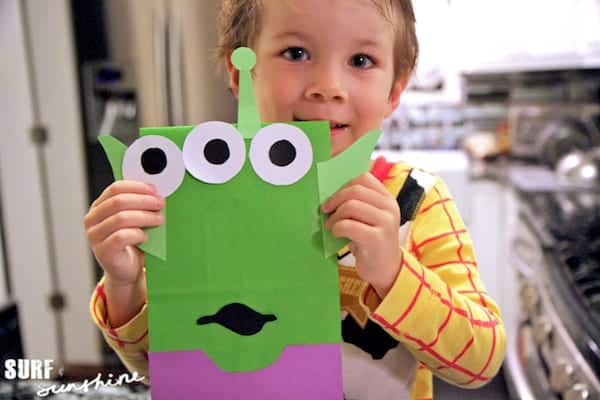 *NOTE* My son is only 3 and he decorated his bags completely by himself so you can see how easy this is – Enjoy!
How to make Toy Story Alien Gift Bags
Supplies Needed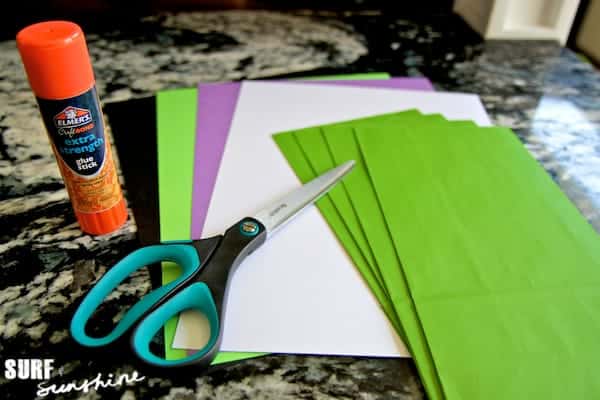 Instructions
Print the template on a sheet of firm card stock paper. White or any color is fine, as this will be your tracing template.
Cut out the shapes and use them to trace the design on the appropriate color paper – collar on purple, ears and antennae on bright green, large circle eyes on white, eyeballs and mouth on black.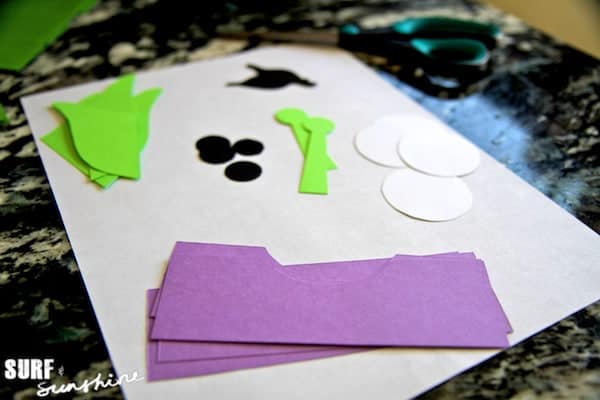 Grab a green kraft bag and fold the top 3″ back. This is to make the handle or something you can tape shut.
If you want to leave the bags open at the top, you can skip this part, but I don't think they look as cute this way!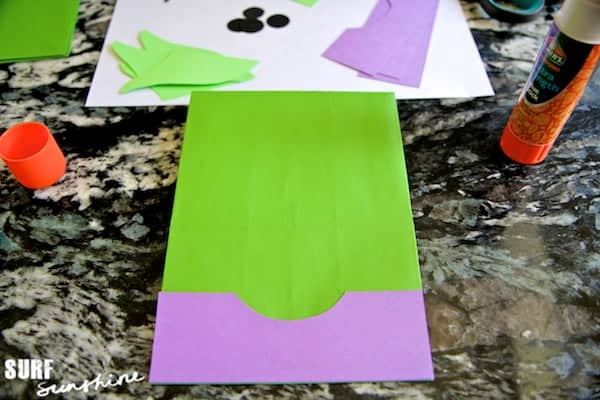 Glue on the purple collar along the bottom edge of the bag. You want the semi-circle cutout to be towards the top.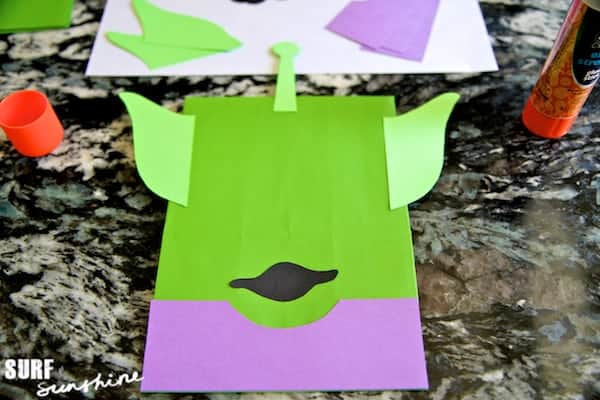 Add the mouth with glue about 3/4 to 1″ – centered above that collar cutout.
Glue the ears on about 3/4″ down from the top fold and place one antennae in center of the top.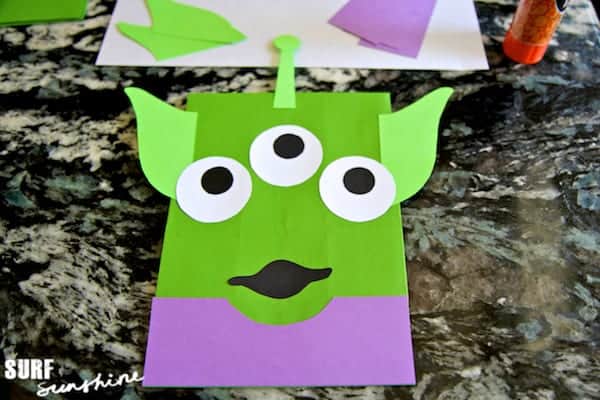 Glue the small black eyeballs onto the larger eye whites. Be sure to make them a little off-center, towards one side to make them look cute. If you glue the black right in the center, they will end up giving you a crazy stare.
Glue 3 completed eyes onto the bag. I recommend arranging them in an arc like the picture above, but you can place them however you wish!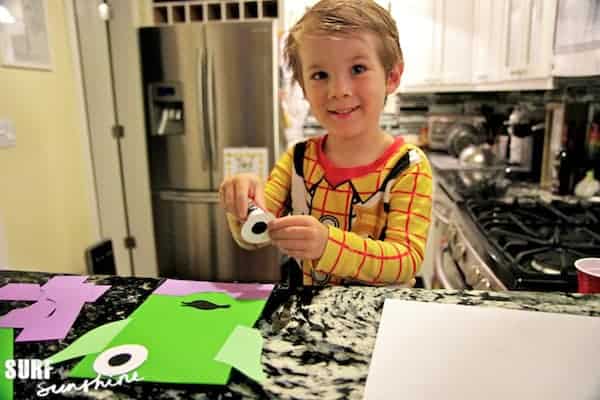 That's it! Fill your Toy Story goodie bags with treats and you're good to go.
This would also be a fun party activity to have the kids make their own Toy Story party bags during the party itself! Set up an arts and crafts table with everything they need pre-cut and placed at each seat.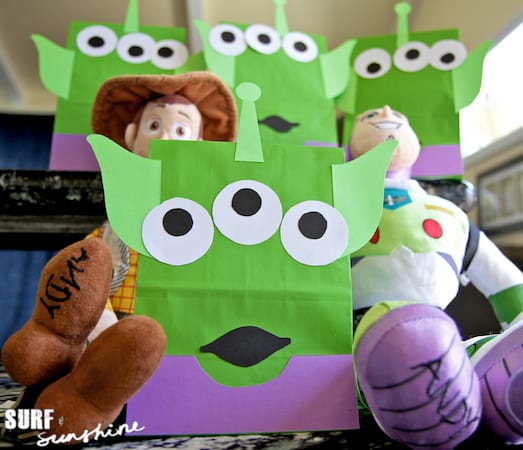 Do you have more free printables I can download for my child?
Yes, we do! I love creating free printables for children of all ages. Some are educational and some just just plain for fun.
You can see them all in my Free Printables section of the blog.
Be sure to check back often as I add new free worksheets weekly! You can also subscribe to our newsletter and get an email when each is available if you prefer :)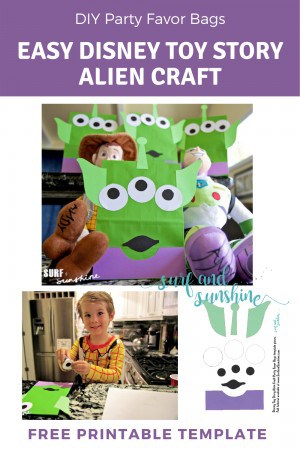 Pin this for later!