In Marvel Studios' "Thor: Ragnarok," Thor is imprisoned on the other side of the universe without his mighty hammer and finds himself in a race against time to get back to Asgard to stop Ragnarok – the destruction of his home world and the end of Asgardian civilization – at the hands of an all-powerful new threat, the ruthless Hela.
But first, he must survive a deadly gladiatorial contest that pits him against his former ally and fellow Avenger – the Incredible Hulk – and grapple with his silver-tongued adopted brother Loki, the fierce warrior Valkyrie and the eccentric Grandmaster.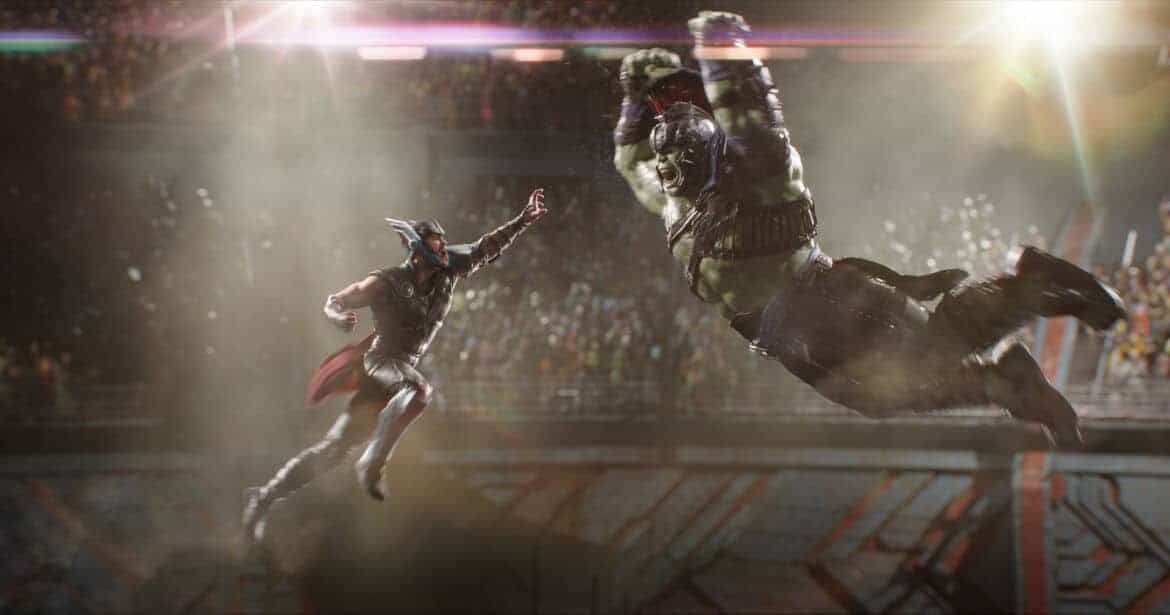 Thor, The Hulk and Loki first pitted against each other and then teaming up? Hilarity ensues in one of the funniest Marvel movies I've seen yet. I remember laughing along with everyone else in the theater, but it wasn't until we watched it again at home of our 4K TV that I caught some of the amazing action and a few more one liners.
Let me sideline for a minute here to say if you have a 4K TV and player, make sure you watch Thor: Ragnarok in 4K. It will really showcase the capabilities of this tech and give you that extra WOW factor in your living room!
Anyway, the trio is comedy gold, here are just a few of our favorite moments and lines from Thor: Ragnarok.
Our Favorite Moments and Funniest Lines From Thor: Ragnarok
Thor: I choose to run towards my problems, and not away from them. Because's that what heroes do.
Hulk: Hulk always… always angry.
Thor: I know. We're the same, you and I. Just a couple of hot-headed fools.
Hulk: Yeah, same. Hulk like fire, Thor like water.
Thor: Well, we're kind of both like fire.
Hulk: But Hulk like real fire. Like… raging fire. Thor like smoldering fire.
bonus: yep. here's smoldering Thor for you :)
Thor: She's too powerful, I have no hammer.

Odin: What are you, Thor, god of hammers?
Thor: If you knew where he was, why didn't you call me?
Dr. Stephen Strange: I had to tell you. He did not want to be disturbed. Your father. He had chosen to remain in exile. And you don't have a phone.
Thor: No, I don't have a phone but you could have sent me an electronic letter. It's called an email.
Dr. Stephen Strange: Yeah. Do you have a computer?
Thor: No. What for?
Thor: How did you end up here?

Korg: Well, I tried to start a revolution, but didn't print enough pamphlets so hardly anyone turned up. Except for my mum and her boyfriend, who I hate. As punishment, I was forced to be in here and become a gladiator. Bit of a promotional disaster that one, but I' m actually organizing another revolution. I don't know if you'd be interested in something like that? Do you reckon you'd be interested?
Loki: Do you really think it's a good idea to go back to earth?
Thor: Yes, of course. People on earth love me, I'm very popular.
Loki: Let me rephrase that: Do you really think it's a good idea to bring ME back to earth?

Thor: [to Valkyrie] You know, I used to want to be a Valkyrie when I was younger, until I found out you were all women. There's nothing wrong with women, of course, I like women. Sometimes a little too much. Not in a creepy way, just more like a respectful appreciation. I think it's great, an elite force of women warriors.
Valkyrie: He (Loki) did try to kill me.
Thor: Yes, me too. On many, many occasions. There was one time when we were children, he transformed himself into a snake, and he knows that I love snakes. So, I went to pick up the snake to admire it and he transformed back into himself and he was like, "Yeah, it's me!". And he stabbed me. We were eight at the time.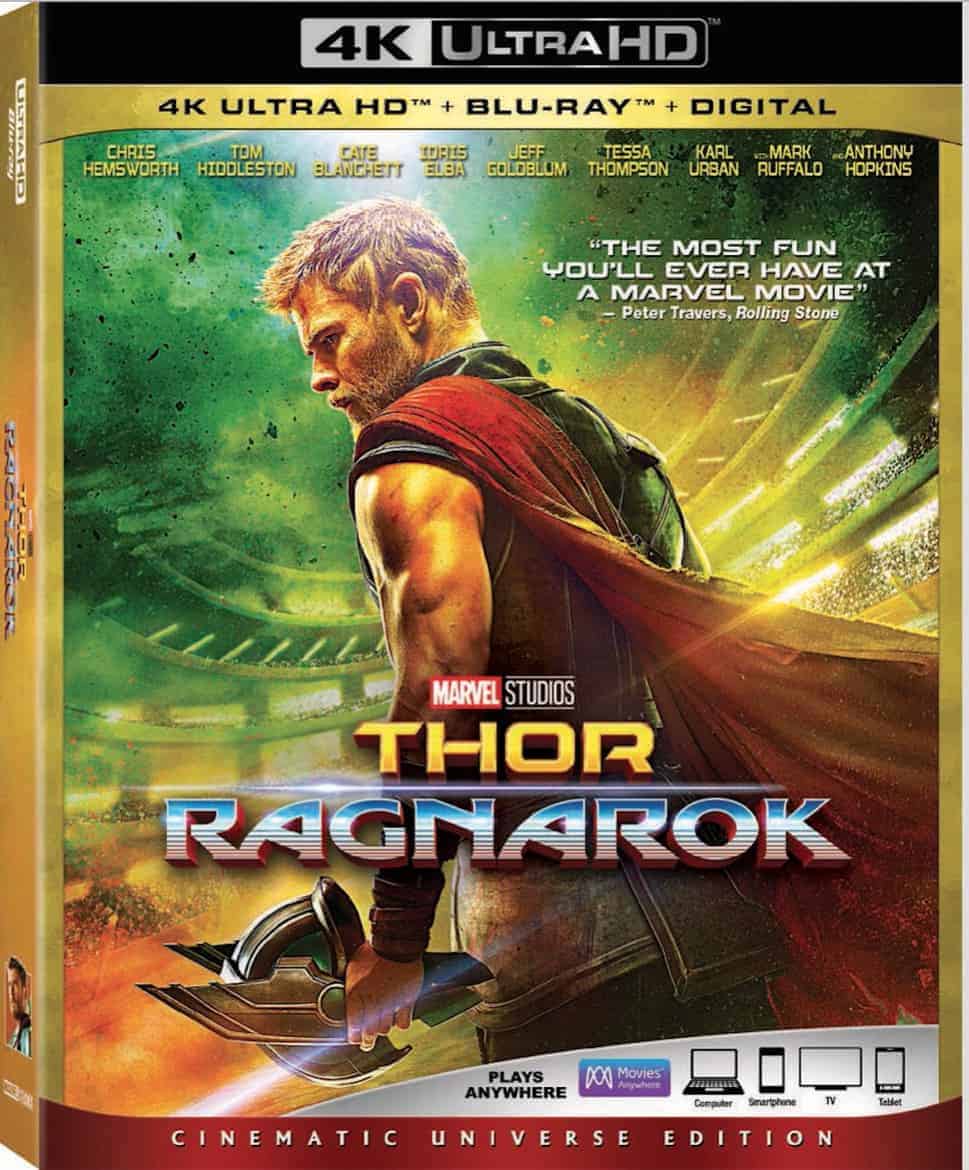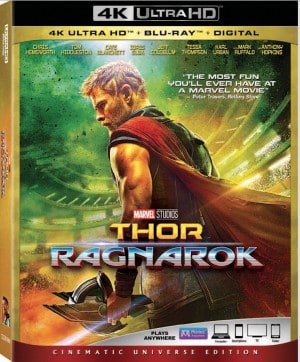 Thor: Ragnarok is available digitally in HD and 4K Ultra HD™, and Movies Anywhere, on Feb. 20 and on 4K Ultra HD™, Blu-ray™, DVD and On-Demand on March 6.
Fans who bring home the Ultimate Cinematic Universe Edition (4K Ultra HD + Blu-ray + Digital) of "Thor: Ragnarok" will experience all the thunderous action and lightning-fast wit in stunning 4K Ultra HD with next-generation high dynamic range (HDR) visuals and Dolby Atmos immersive audio. Exclusive, never-before-seen bonus features include deleted scenes; hilarious outtakes; an exclusive short: part three of the mockumentary "Team Thor," retitled "Team Darryl" and featuring an eccentric new roommate; the evolution of MCU's heroes culminating in "Avengers: Infinity War;" numerous making-of featurettes which explore the unique vision of director Taika Waititi; the story's unstoppable women; the effortlessly charismatic Korg; the tyrannical leader of Sakaar, the Grandmaster; and the film's comic-book origins; audio commentary by Waititi; and more.