I know you've seen them. Those super cute Hot Dog Mummies that are spreading like wildfire on Pinterest lately. I've had a few pictures pinned since last year and decided this was the year to give them a go. I had a quick family meeting with Ben and we decided that if I was going to attempt making these, that we needed to do it up right. Kicking it up a notch, our Bacon Wrapped Sausage Mummies are made with adults in mind.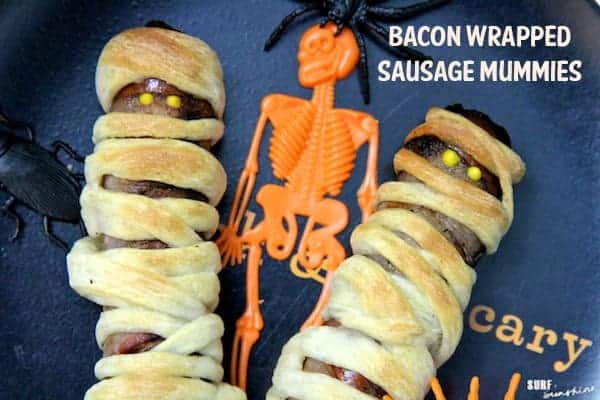 Bacon Wrapped Sausage Mummies Recipe
Um, what "recipe"? We made these by looking at a picture of a Hot Dog Mummy and using what we already had in the fridge. It really is that quick and easy! But I'll put it in a recipe format for you anyway :)
Ingredients
1 package sausage
1 package bacon
can of pre-made refrigerated pizza crust dough
yellow mustard
I grabbed a package of one of my favorites, Beef & Jalapeno with Monterey Cheese Sausage, but you can use whatever you like – even hot dogs if you're making this for the kiddos.
We wrapped them in bacon and then grilled for 1/2 of the time we normally do – about 10 minutes. (You don't want to cook them all the way because they still need to bake in the oven as well.)
As you can see, we may have left one on the hot spot for longer than intended. I won't name any names, but it starts with a B and ends with an N.
We happened to have a can of pre-made refrigerated pizza crust dough so I popped it open, unrolled it onto a cutting board and used a knife to cut thin strips.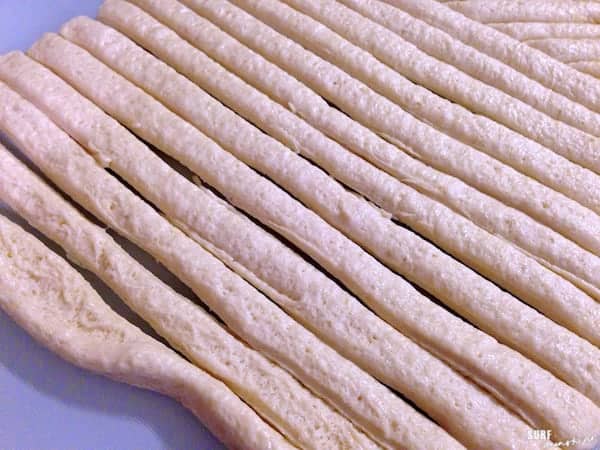 I have seen croissant, pastry and breadstick dough used as well too so just choose the one you like best or use most. I then mummified the bacon wrapped sausages by starting at one end and going in as many different directions as I could. When you run out of a strand, just grab another and start wrapping. The messier the better. My only tip for this is to not pull too hard or over stretch the dough and try to start and stop the ends on the "back" so that they will stay wrapped during cooking.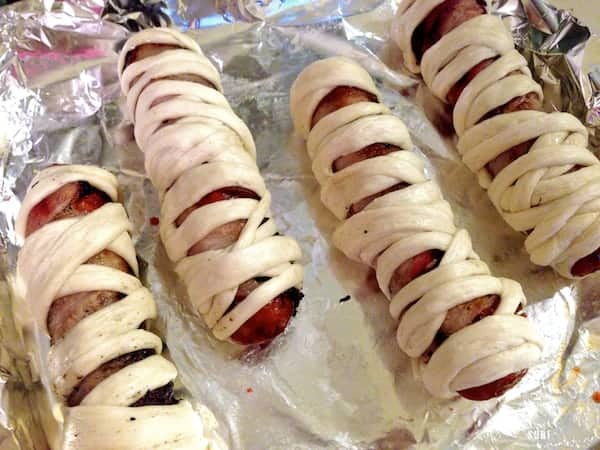 Decide where you want the eyes to be and simply spread apart the dough in that area. Bake at 350 degrees for about 15 minutes (or until dough begins to golden brown). DO NOT ROLL OVER! Add mustard eyes and voila! Your bacon wrapped sausage mummies are ready to be devoured.
This recipe not for you? Be sure to check out my other Halloween recipes here or my Holiday Recipes Board on Pinterest.