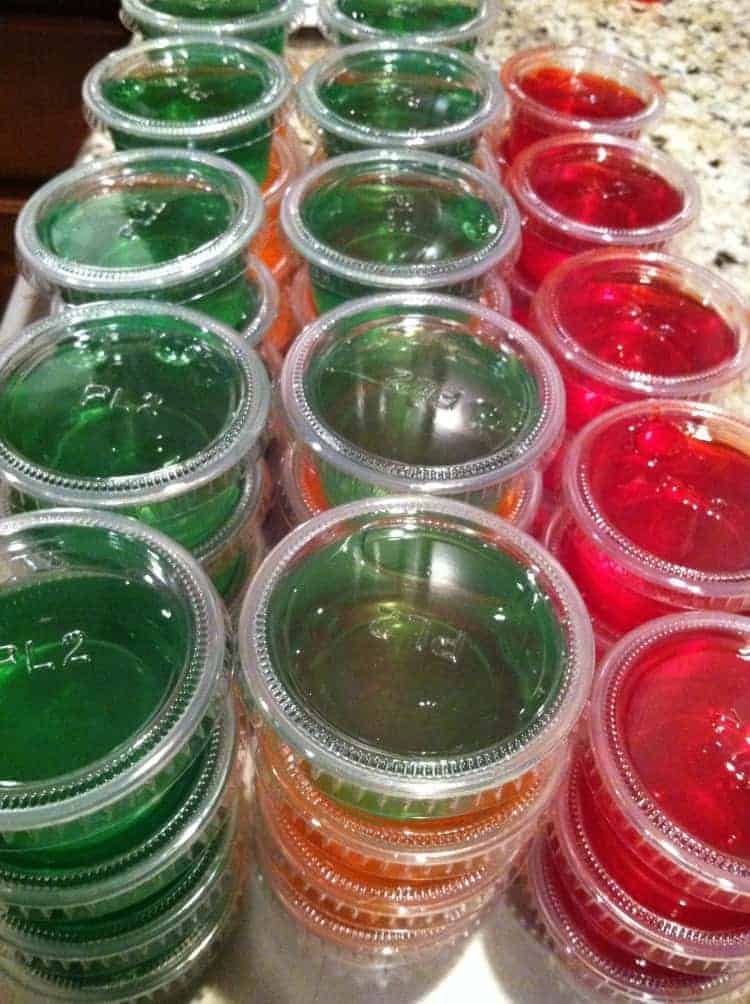 My Fourth of July must know recipe: How to Make Jello Shots. This is a super easy recipe for any beginner, and some tips on how to make some unique flavors with other alcohols that will be sure to be the talk of the party.

These slippery little critters are always a big hit – but be careful, the effects of the alcohol tends to sneak up on you and you might end up poopin' out before the day is through!
How to Make JELL-O SHOTS!!!

I love a good jell-o shot! Who doesn't? It's the adult version of the snack that every body loves! Here are a few of my jell-o shot making secrets…

I use the small packets of jell-o and follow the directions on the package for making them EXCEPT for the cold water. In place use cold booze (usually Vodka)!
If you want a weaker shot, use half water half alcohol.
To make them easy to make and store, buy those small condiment type cups (ramekins) that come with lids. These are the perfect size for the shots, plus with the lids you can easily stack them in the refrigerator. (They are hard to find in stores, but you can find them online here!)
Most people use Vodka and their favorite Jello flavor, but why not think OUTSIDE the box? What's your favorite mixed drink? You can probably turn it into a jell-o shot easily!
Again – all of these call for a small package of Jell-o and 1 cup of alcohol TOTAL. If more than one alcohol is listed below, use half and half!
* Margarita * Lime jell-o with tequila, sprinkle a tiny bit of salt on the top when it's set!
* Pina Colada * Pineapple jell-o with Malibu coconut rum, garnished with toasted coconut flakes!
* Fuzzy Navel * Orange jell-o with peach schnapps and vodka.
* Holiday Spice * Orange jell-o with Captain Morgan rum.
* Mimosa * Orange jell-o with champagne. Extra fancy: add a slice of strawberry.
* Lemon Drop * Lemon jell-o with Absolut Citron. Sprinkle sugar on top.
* Sweet Tea * Lemon jell-o with Sweet Tea Vodka.
* Raspberry Dream * Raspberry jell-o with Chambord
* Grape Jolly Rancher * Grape jell-o with vodka and midori.
* Watermelon Jolly Rancher * Watermelon jell-o with vodka and Pucker (sour apple schnapps).
* Cherry Chocolate * Cherry jell-o with Godiva Chocolate Liqueur.
* Cherry Cola * Cherry Jell-O with Amaretto and Coke (equal parts)
Thank you to guest contributor Robin for some of the above recipe/suggestions. The rest are my inventions from many years of bartending – enjoy!