Did anyone watch "The Bachelorette" with Emily Maynard? Remember the one on one date with John in Prague, when he tries unsuccessfully to place their padlock on the fence covered in locks? I'd never heard about "love locks" before watching that episode, but apparently its a hugely popular trend, especially in Europe.
Love locks are a tradition where couples attach padlocks with their names or initials to a fence, gate, bridge or public fixture to symbolize their eternal love for each other. While this trend started gaining popularity in the 2000s, lovers have actually been doing this for decades. An early example can be found in Vrnjačka Banja, Serbia, where there are locks on a pedestrian footbridge called Most Ljubavi (translated "the Bridge of Love"). The placing of the locks on this bridge can be traced back to before World War II!
Pin this post for later!
In recent years this romantic trend has caught fire and almost every metal pole and chain-link fence in Mount Huang, China is also covered in love locks. Couples there affix their lock, as a symbol of joining their souls, and then toss the key off the edge of the cliff.
In Italy, the trend has been made popular by a fictional event in the book "I Want You" by Italian author Federico Moccia. The book was adapted in the film Ho voglia di te. While there are numerous locations in Italy adorned with padlocks, the most famous is on the Via Dell'Amore, a path connecting the towns of Manarola and Riomaggiore in the Cinque Terre. There's a legend that says the Via Dell' Amore was a meeting place for lovers from the two towns. Today, its become a popular site for tourists to place their locks and toss the keys into the sea.
Love locks are virtually everywhere you look! Ready to join the trend? There are bridges all over the United States as well as the rest of the world. Here are eleven places you can find the locks of love.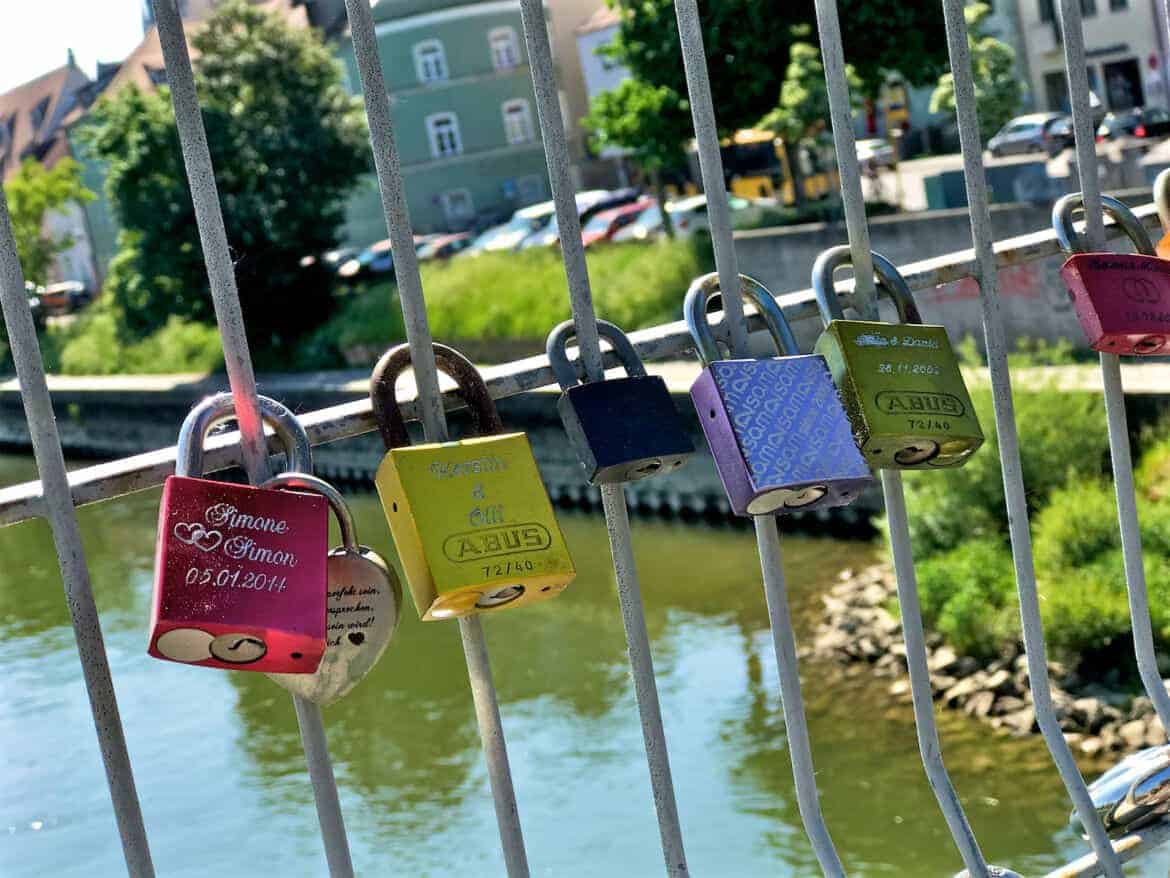 I found these love locks running the complete length of one of the pedestrian bridges that cross the Danube in Regensburg, Germany during our recent Viking Grand European Tour cruise. Just one of the many hidden gems we stumbled upon during our lovely 15 day European adventure with Viking!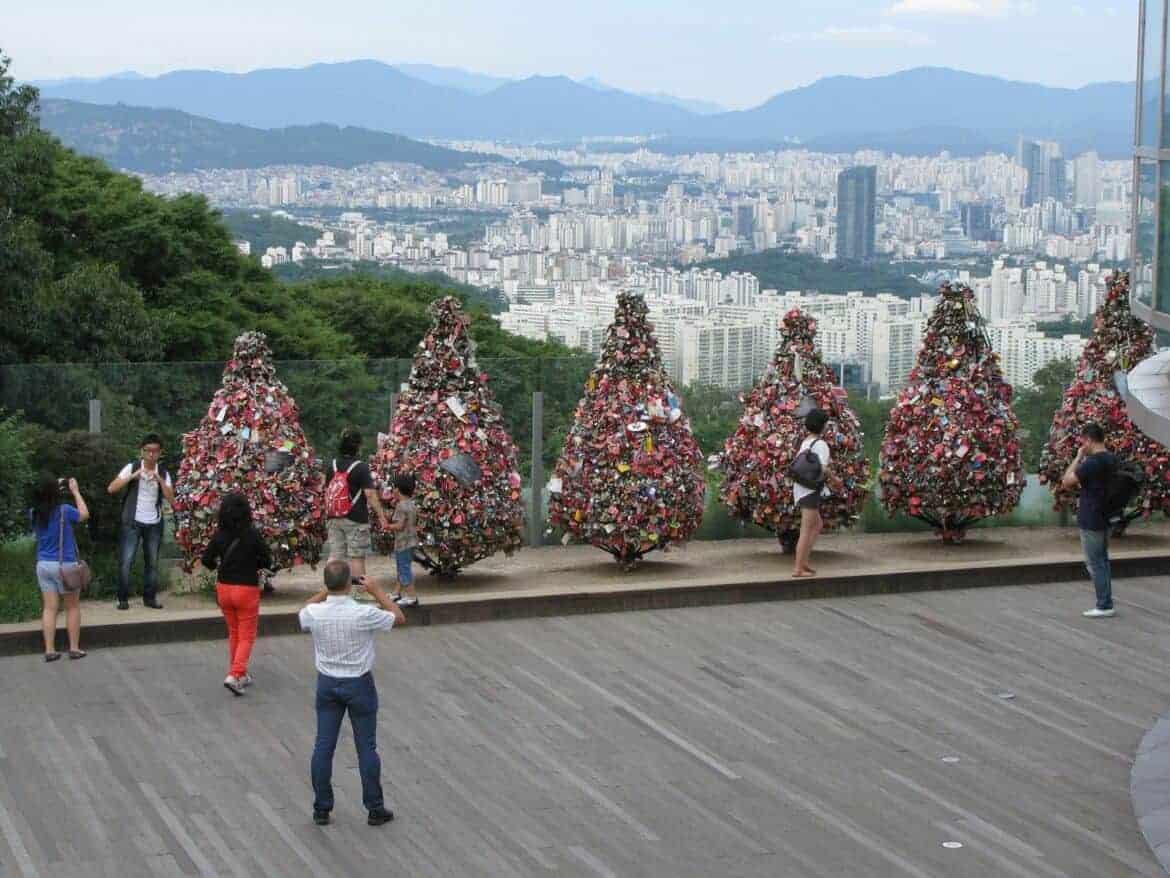 In Seoul, South Korea there are seven artificial trees known as the "love trees" on the N Seoul Tower that hold the padlocks from people all over the world. Instead of tossing the key into the water, there is a bin to leave your key behind.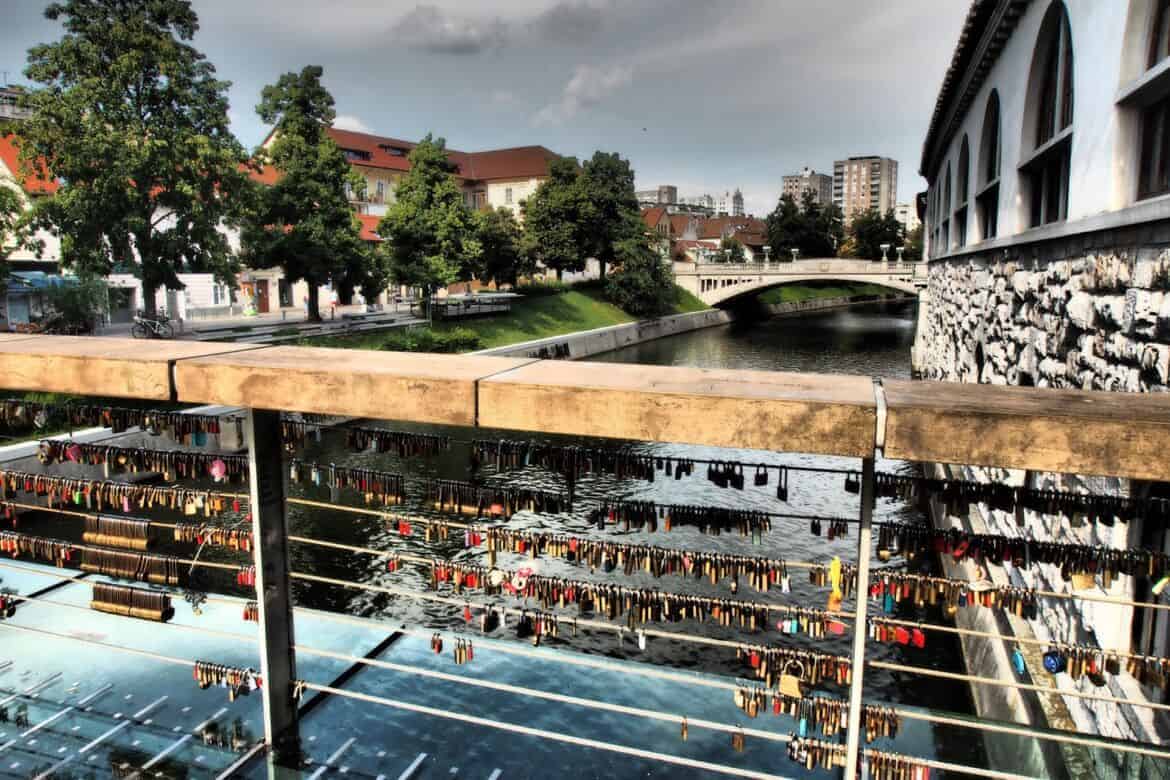 A fairly new pedestrian bridge (Butchers Bridge) that crosses the Ljubljanica River in Slovenia has begun attracting love locks since 2010.
The Hohenzollernbrücke bridge in Cologne, Germany has had people hanging padlocks on it since 2008, and now it has over 40,000 locks of love.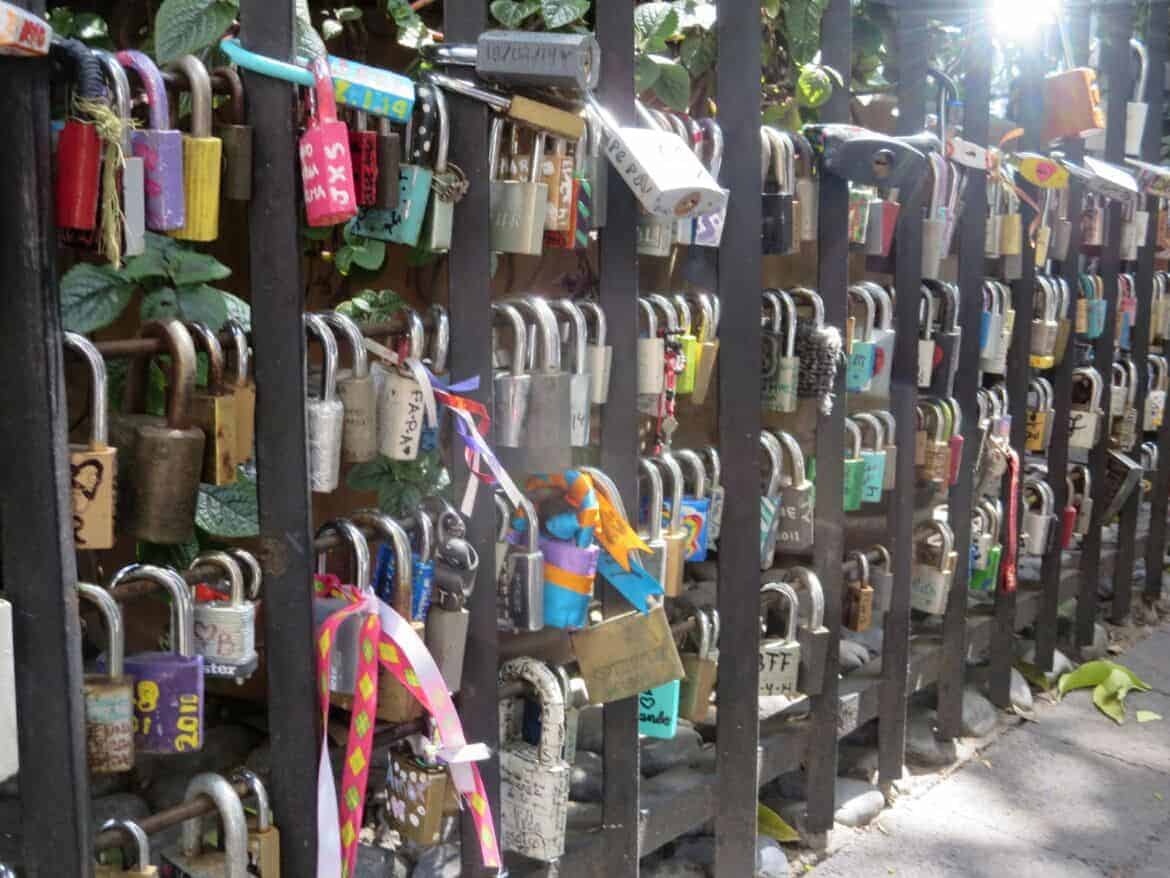 In Mexico, you will find locks of love outside of the MODO Museum. There is an iron box outside the museum to deposit your key in to be sealed forever.
Two Lovers Point in Tamuning, Guam allows visitors to attach their locks of love to a fence that overlooks the ocean.
Along the Burrard Street Bridge that runs along the False Creek in Vancouver, padlocks inscribed with messages of love decorate the fences.
The famous Brooklyn Bridge has started attracting love locks that adorn the massive structure. They are silent symbols in a place that never seems to be still.
Young people hang locks in Fengyuan, Taiwan at a train station. The locks have wishes of love or success written on them, and legend has it that when a train passes, its magnetic energy on the tracks will allow energy to accumulate in the locks and make their wishes come true.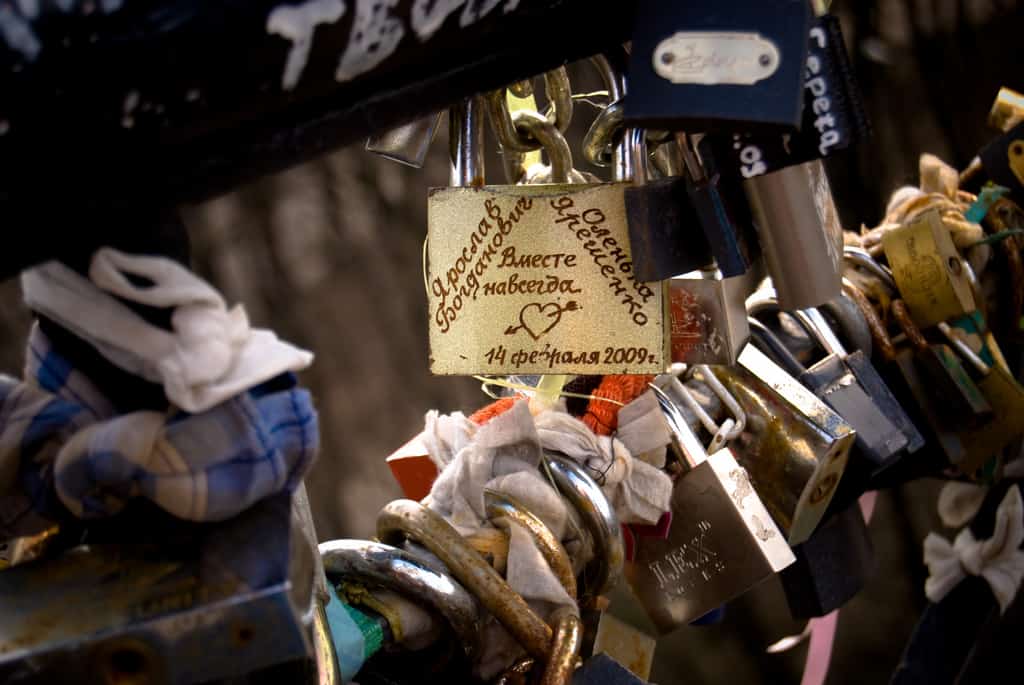 Ukraine has a pedestrian bridge in Kiev that crosses over Volodymyrsky Uzviz Street which is located by the National Philharmonic building. All along the bridge, people have filled it with their locks of love.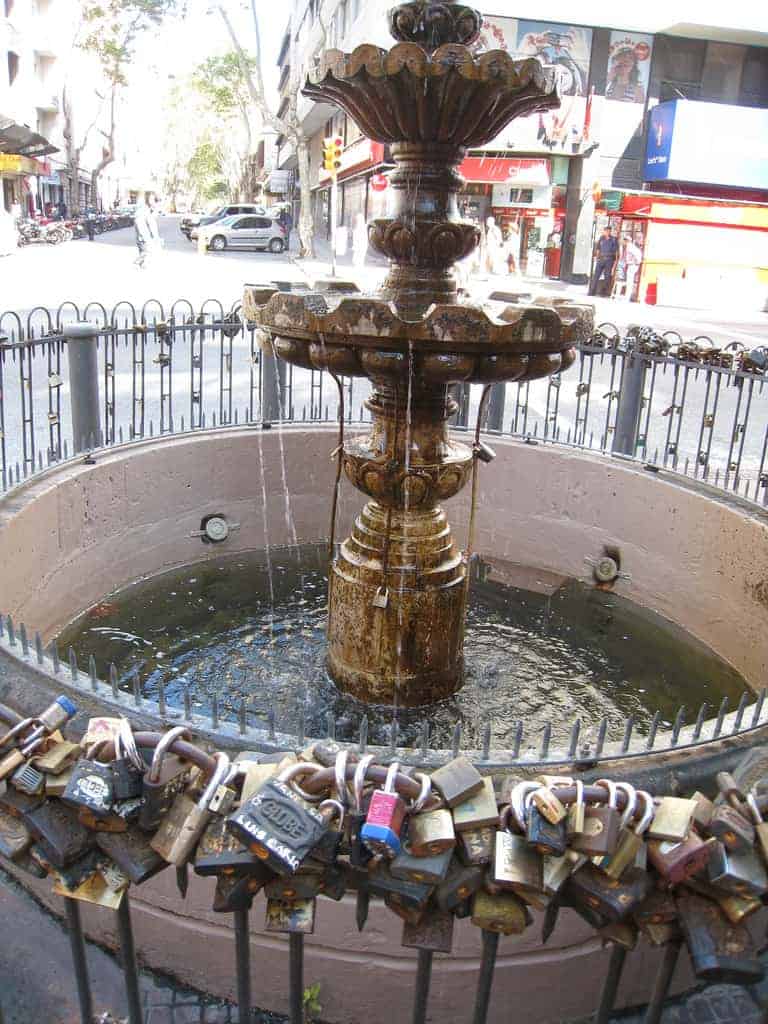 In Uruguay, the Montevideo Fountain has been designated for locks of love hung by couples. A plaque there states that if two people are truly in love and they place a lock their with their initials on it, their love will be locked forever.
Where would you like to leave your own love lock?