Hardly able to contain his excitement, my husband practically squealed as he walked in the door, arms laden with grocery bags, "Guess what was on sale at the store tonight!?" "Snakes and puppy dog tails?", I respond. "Yes, but the lady in front of me grabbed them first. Luckily, these shrimp were a good bargain too!"
"Perfect", I think to myself. I was looking for something to go with the bottles of Cayman Jack Margarita that were constantly calling my name from the fridge. I'm normally not a fan of traditionally made margaritas, but after trying one as soon as they arrived the other day, I'm hooked. Using 100% Blue Agave Nectar from Jalisco, Mexico, organic Key Limes from Colima, Mexico and Pure Cane Sugar from South-Central Brazil, Cayman Jack was able to create a refreshing margarita with an alcohol level that's higher than most beers but still incredibly drinkable. Also not a beer drinker, making myself a summer cocktail is usually quite complicated so I'm also really loving that this is something I can grab right out of the fridge, twist open and enjoy. Oh and guess what I'll be taking in the cooler on picnics?
With Ben's catch of the day, I naturally instinctively wanted to make Shrimp Tacos. Wanting to try something I'd never made before, I scoured Pinterest for inspiration and then it hit me. Instead of your typical Beer Battered Shrimp, why not try using Cayman Jack Margarita instead? Genius. This recipe was so delicious, I made it two nights in a row – with no complaints from anyone. The second night I ran out of cabbage for the slaw so instead thinly sliced some sweet baby bell peppers, which actually tasted better than the cabbage – I highly recommend giving it a try!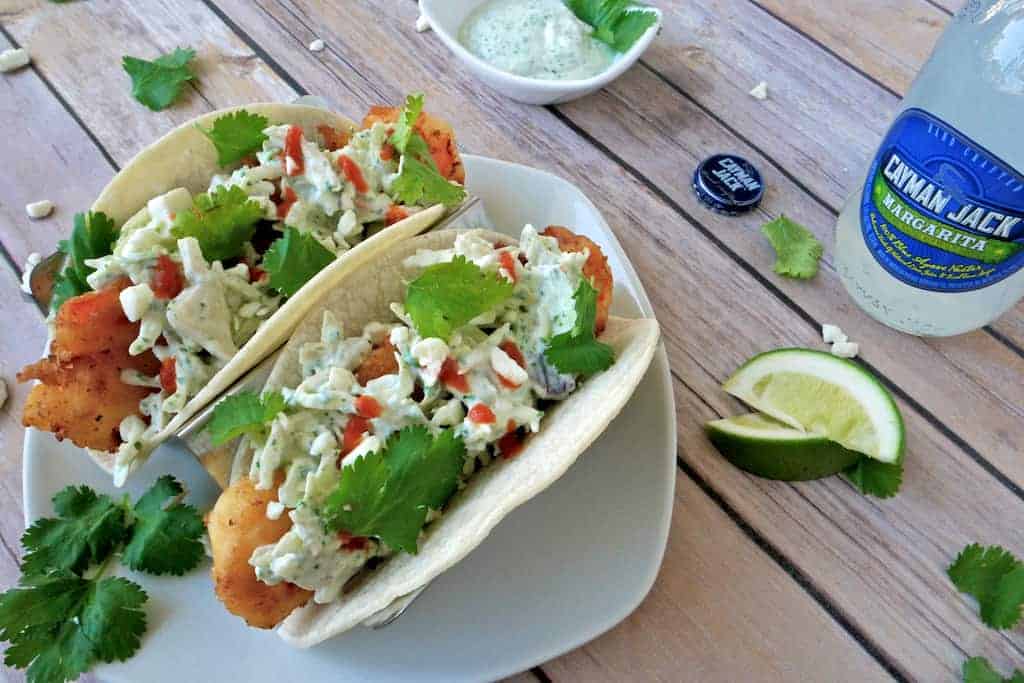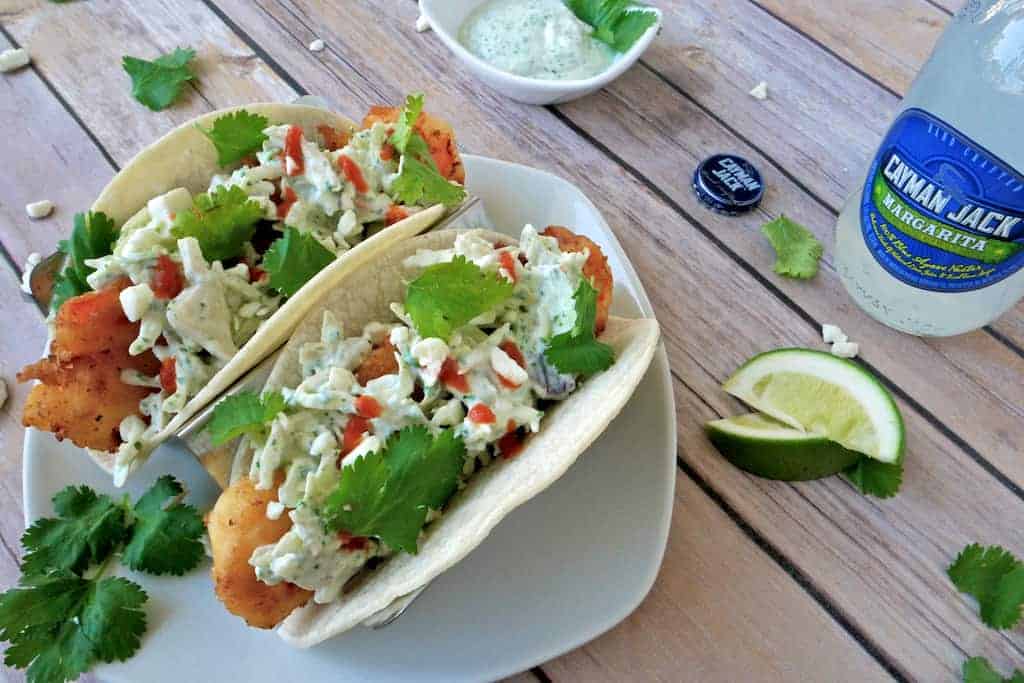 Margarita Battered Shrimp Tacos
Ingredients
For Margarita Batter
1 cup dry biscuit mix
1 tsp garlic powder
1 tsp ground cumin
1 tbsp sriracha sauce
1/2 cup Cayman Jack Margarita
1 egg
For Shrimp Tacos
1 lb uncooked shrimp, large 16-20ct
1/2 cup flour
8 tortillas, taco size – corn or flour
1 avocado, ripe
2-3 tbsp favorite salsa or pico de gallo
Feta cheese, crumbled
cilantro, fresh chopped
1 lime, quartered
oil for frying
Directions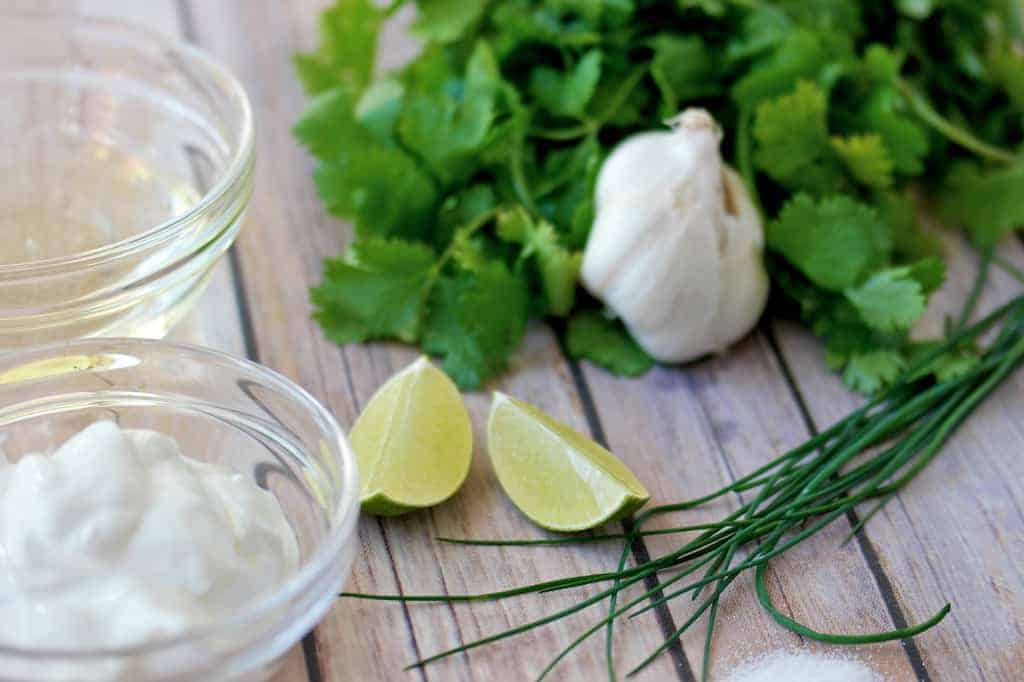 1. If you like cabbage slaw, I highly recommend making Pinch of Yum's Garlic Cilantro Lime Sauce mixed with diced cabbage. If you're feeling lazy, you can use pre-made store bought slaw.
2. Completely peel and devein shrimp. Store in fridge until ready for use.
3. Combine all batter ingredients in medium bowl and mix thoroughly with fork or whisk.
4. Mash avocado into a small bowl and mix in salsa/pico. Set aside.
5. Heat 1/2 inch of oil in skillet over medium heat. Begin warming tortillas using your preferred method.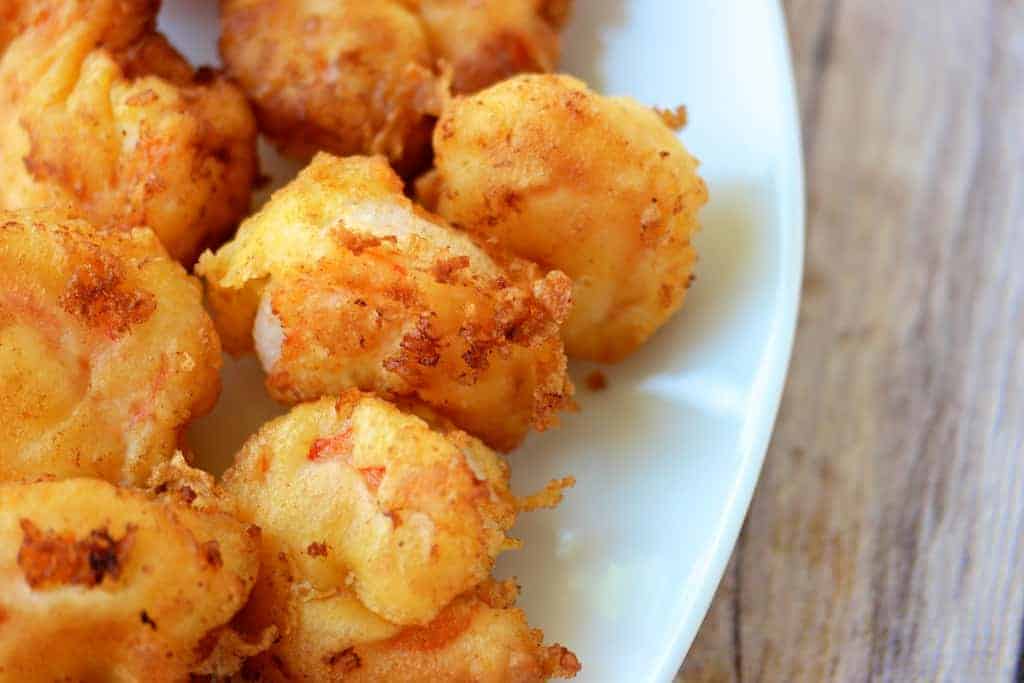 6. Place flour in a shallow bowl. Working in small batches, coat both sides of shrimp in flour and then dredge in batter, allowing excess to drip back into bowl. Place shrimp gently in oil and cook until golden brown, about 2 minutes each side. DO NOT overcrowd and allow battered shrimp to touch when frying – they will stick together. Place on paper towel covered plate to absorb excess oil.
7. To assemble taco, spread 1 tbsp avocado mixture on tortilla and top with single row of shrimp. Top with slaw, feta, cilantro and serve with lime. Drizzle sriracha on top for added spice.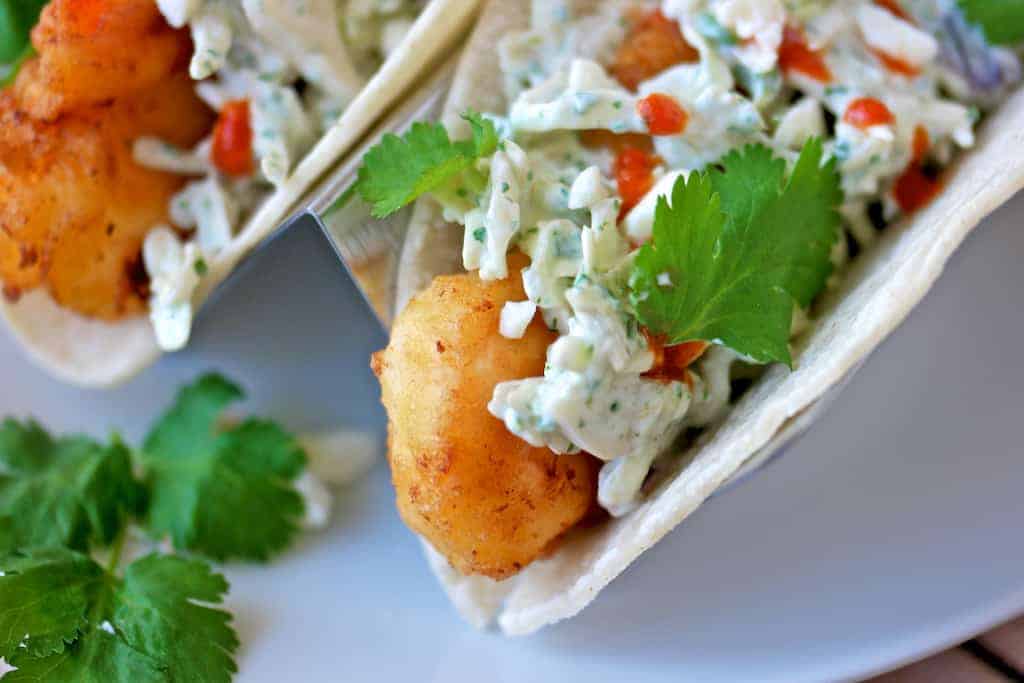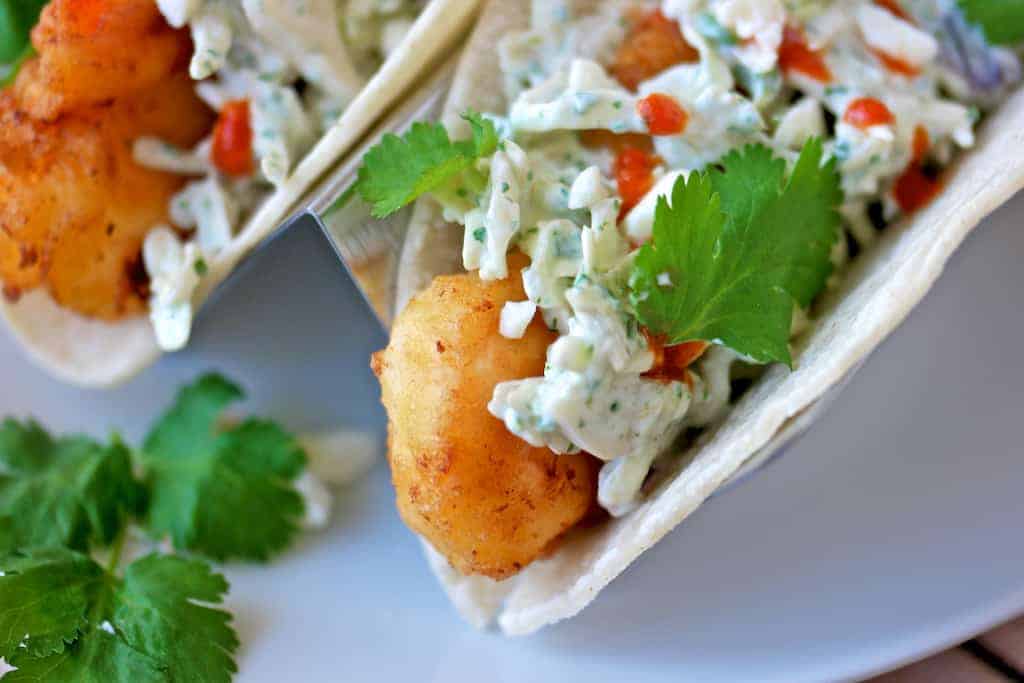 *I'm using a metal taco stand
– great for presentation and also makes them easier to eat!
This is a sponsored conversation written by me on behalf of Cayman Jack. The opinions and text are all mine.