Although Cinco de Mayo is traditionally a holiday of Mexico today it is celebrated in the United States as well with delicious food and drinks playing a key role. This delicious 901 Silver Tequila cocktail created by Sean Kenyon of Williams & Graham in Denver is the perfect addition to any Cinco de Mayo celebration.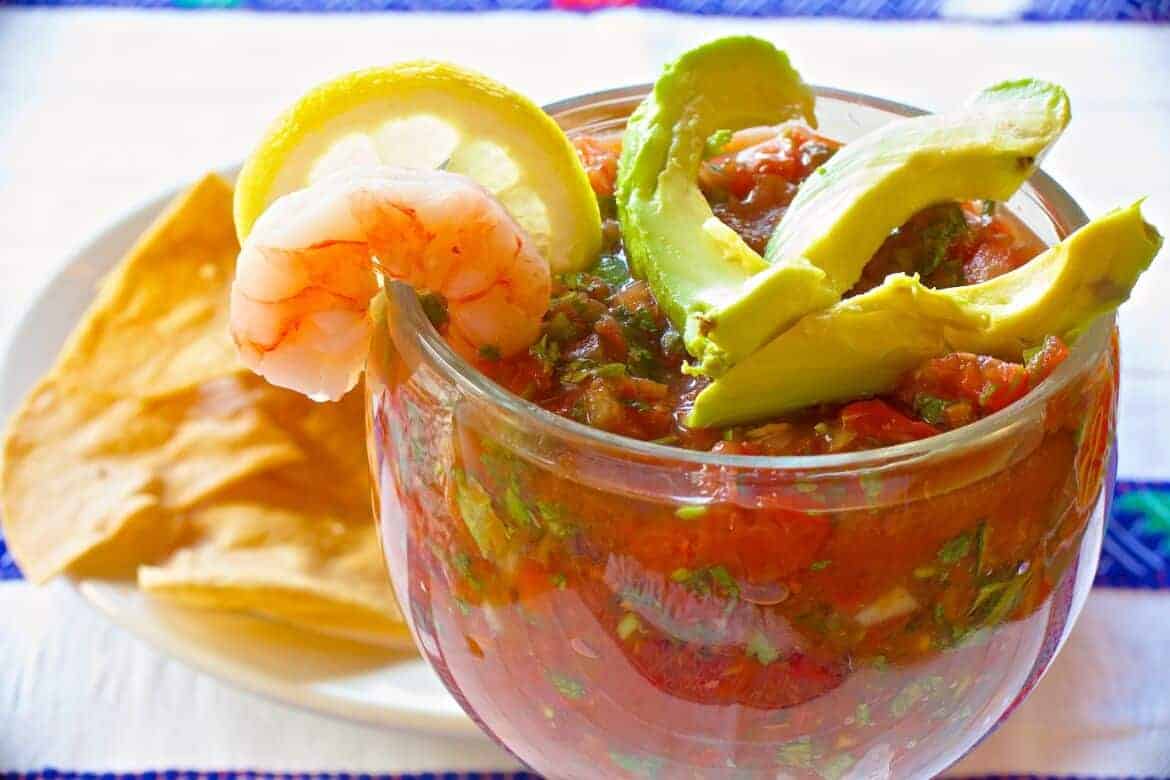 The recipe for 901 Silver Tequila took more than three generations to perfect and it is DELICIOUS!!! The recipe was crafted by Don Enrique and he handed it down to his son, Don Frederico, and then passed it down to his sons Federico and Carlos, who modernized it into the tequila that is 901 Silver Tequila today.
Perfect for the summer months and to really wow people at your next get together – try it!
Thank you to 901 Silver Tequila for providing this recipe and a product sample.
Ingredients
901 Shrimp Campechana (Courtesy of Danika Boyle – Austin, TX)
1 cup of 901 Silver Tequila, plus 2 tbsp reserved
1 pound of medium shrimp, shelled and deveined
1 can of san marzano whole peeled tomatoes, drained
¼ cup of tomato paste
Juice of two limes plus 1 cup of lime juice (for poaching)
1 small sweet onion
3 cloves of garlic
1 tbsp of fresh basil
1 cup of cilantro
1 small cucumber, seedless or seeded, peeled and roughly diced
1 small Serrano chile, seeded and stem removed
5 tbsp of salt
1 tbsp of prepared horseradish
½ cup of Spanish olives, pitted
1 tsp of finely ground pepper
1 large avocado, diced
1 cup of fresh grape or cherry tomatoes, diced or quartered.
* optional, add ½ c of Chile Sauce in lieu of tomato paste
Instructions
Shrimp:
Add 3 tbsp of salt, 1 c lime juice, 8 c water and 1 cup of 901 Silver Tequila to a large pot and bring to a low boil.
Toss in shrimp and remove from heat.
Allow to poach gently, 4 minutes or until pink and cooked through.
Cool.
Sauce:
Combine tomatoes, paste, lime juice, onion, garlic, serrano, cucumber, basil and cilantro, olives and 3 tbsp salt, pepper and horseradish to a food processor and pulse gently until incorporated.
Once Shrimp have cooled toss in with the tomato mixture.
Slowly add in the Avocado, fresh chopped tomato and add to a cocktail glass such as a Martini or Wine Glass.
Drizzle with 901 Silver Tequila.
Serve with Homemade Tortilla Chips.