Ever since Jeana began filling her Instagram feed with delicious Thai food on her recent trip to Thailand, I've been craving a good Thai dish. Unfortunately, I've spent the majority of the last few weeks away from home and when I am home, I've lost all motivation to cook. It's been an adjustment cooking for one (and a half) every day when I'm used to cooking for the three of us. This is problematic as Thai dishes are fairly simple but do require a decent amount of effort. So I've been watching reruns of cooking shows and raiding the snack cupboard instead.
That's close right? Apparently not, because I'm still craving Thai food. Or I was, until I had Lemon Grass Kitchen Red Curry Chicken. It was easy to whip up. I simply defrosted the sauce, threw the ingredients in a pan with a few tablespoons of water and cooked for 6 minutes. I don't know about you but I rarely cook anything according to instructions. I'm always adding a dash of this or a pinch of that. With the Lemon Grass Kitchen products it's encouraged and they even give you a few suggestions. With the Red Curry Chicken, I just simply poured it over a batch of fresh rice. It all finished up cooking in less than 15 minutes which is perfect for those nights where my motivation is MIA.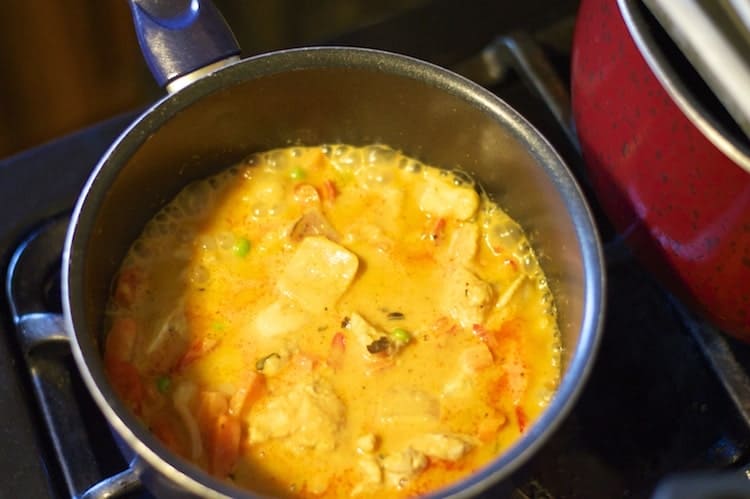 I invited my mom over for lunch and it was the perfect size for all three of us to share and everyone cleaned their plate. The dish really was spot on. The chicken was of great quality, the vegetables cooked up al dente and the sauce was exactly what you want from a curry. It had great consistency and the perfect level of spice.