This simple Roast Chicken Recipe is perfect for family get-togethers and holiday parties. Just a little bit of prep and then the oven does most of the work for you. With potatoes and vegetables right in the pan, you pull a complete meal straight from the oven. What more could you ask for?
Pin this for later!
Flavorful Roast Chicken Recipe
This oven-roasted chicken recipe is so easy! It's definitely up there on my list of go-to meals for family dinners and parties.
There's just a handful of ingredients and most of them are likely already in your pantry.
For the seasoning, we keep it simple. Sea salt, pepper, garlic, olive oil and lemon. That's it.
This may seem a little TOO easy or basic but I promise you, when you're biting into the chicken later, the lack of herbs will be the last thing on your mind. Instead, you'll be thinking about just how juicy and flavorful your chicken is. Sometimes, subtle flavors are all you need.
Another thing to love? Roast chicken takes one-pan dinners to a whole new level. Radishes, potatoes and onions are also baked right in the roasting pan. When you pull your chicken from the oven, you've got a full meal ready to go!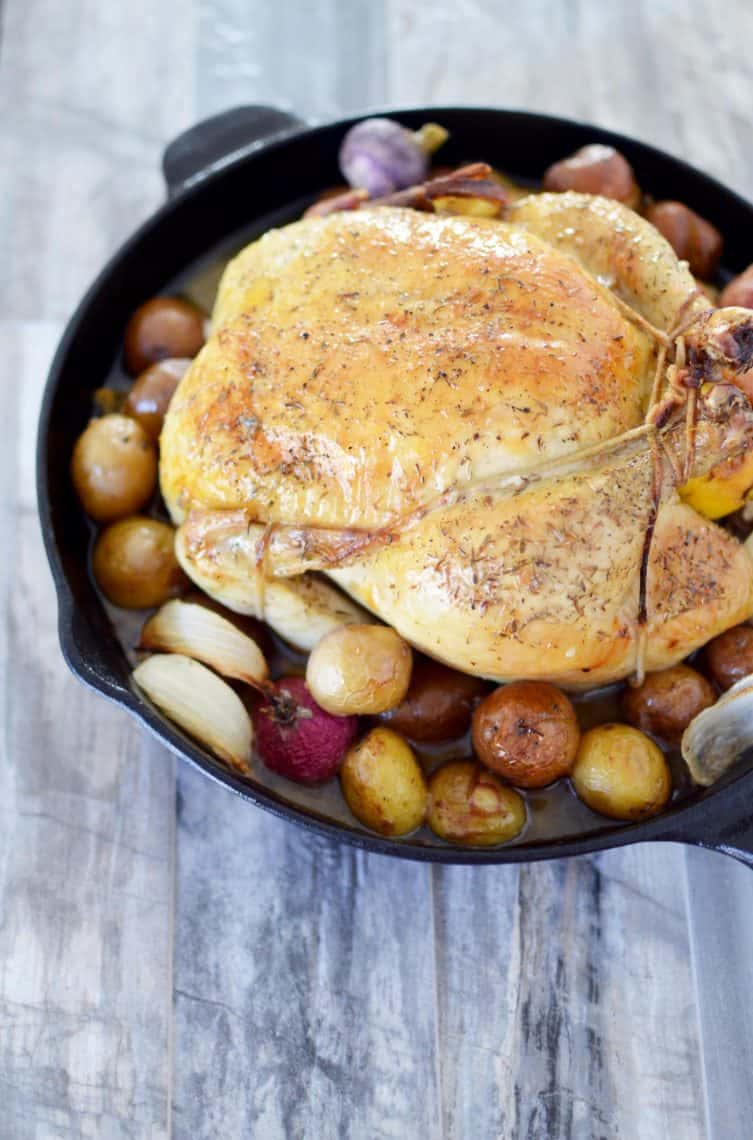 Ingredients
4-5 pound free range roasting chicken
1 cup quality stock or bone broth
½ cup onion chopped
a few rainbow radishes, whole or slices (they cook down and transition from peppery to almost potato like in taste).
2-3 fresh garlic cloves
petite potatoes to fill in the rest of the pan
olive oil
sea salt and pepper
1 lemon
optional: ½ cup dry white wine
tinfoil to cover the cooking chicken

How to Make Simple Roast Chicken and Potatoes
Heat the oven to 400 degrees.
Thoroughly wash all of the vegetables and lemon before slicing.
Remove any bagged items from inside the chicken and place in the center of an oven safe pan or skillet (tie if needed to hold together).
I filled this chicken with slices of lemon.
Lay the vegetables around the chicken evenly.
Drizzle some olive oil on top and then dress with the sea salt and pepper.
Form the tinfoil around the chicken so you will not have to do it once the chicken is hot and then set off to the side (keep it mind that it has touched raw chicken).
Cook the chicken at 400 degrees for 30 minutes, allowing it to brown evenly. Then cover with the pre formed foil and reduce the heat to 375.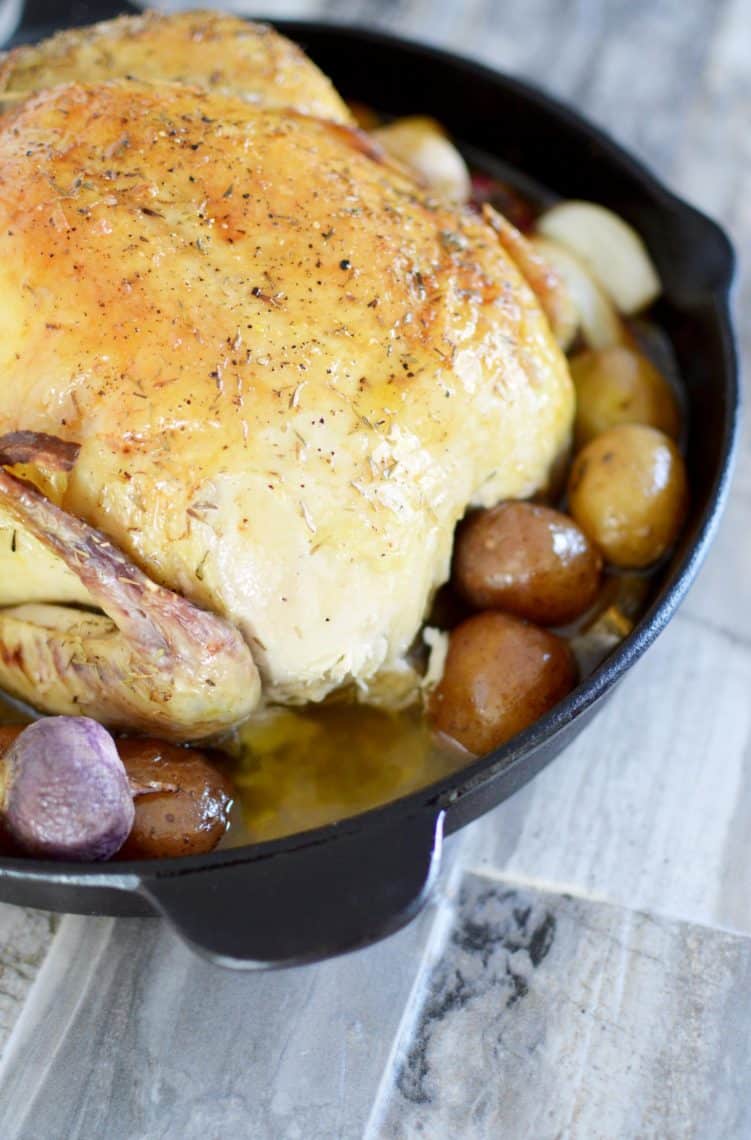 Cook for about 25 minutes per pound or until you have a constant temperature of 165 and all juices run clear. If still a little pink anywhere then it will need more time.
Allow to cool for about 10 minutes before cutting. Serve warm. Also makes great leftovers!
Tips for the Best Oven-Roasted Chicken
Baste the chicken halfway through cooking time.
If you want the skin extra crispy, pop it under the broiler for the last few minutes.
Another trick for crispy skin is to use your hand to put the olive oil under the skin as well as on top of it.
Let the chicken rest for at least 10 minutes before cutting it. 20 minutes is even better.
How to Tell When Chicken Is Done
How long it takes your roast chicken to cook depends on the size of the chicken. I calculate 30 minutes plus 25 minutes per pound. For a 5 pound chicken, that ends up being around 2 and a half hours.
However, you always want to double-check that your chicken is done before pulling it from the oven, instead of just relying on time.
Here are a few tips to tell when your chicken is done:
No pink juices. No matter where you press on the chicken, the juices run clear.
The leg is loose. When you wiggle the leg, if it feels loose then it's a good sign the chicken is done.
Most importantly, an internal thermometer should read between 160F and 165F. 165F is the official "done" temp for chicken but when you let the chicken sit outside the oven, it will raise from 160 to 165.
Serving Suggestions
As I said above, when this roast chicken comes out of the oven, it's really a complete meal ready to go. However, it's also fun to add side dishes and, of course, you're going to have leftovers!
Serve with a side salad or steamed veggies.
Make a hearty chicken soup with the leftovers.
Add leftovers to sandwiches and salads. I love to make a big chicken salad with leftover roast chicken and garden-fresh veggies! Yum.
Use the carcass to make bone broth or chicken stock.
Can I Use Other Veggies?
Absolutely. While I like the simplicity of potatoes, radish, and onion, you can easily switch it up. Carrots, celery and turnips are all worthy replacements.
More Easy Chicken Recipes: