Each year in March, our family takes an annual trip to Whistler Blackcomb in British Columbia, Canada. In March of 2009, Ben and I took our annual ski vacation and in November 2009 our son Whistler was born – you do the math. Maybe it's his name or maybe he just plain got it from Dad, but this kid has always loved the snow and was an instant "natural" on skis. Since then, the trips have become even more special.
His first trip in March of 2010 (4 months old), we tried sledding in a pasta pot but mostly stayed bundled up and met everyone at beer thirty.
We sadly didn't make it up to Whistler in 2011, but were able to sneak up to Mammoth for a weekend and he hit the slopes with Dad via Baby Bjorn.
In March of 2012, I bought Whistler his first set of skis (Lil Flake Kids Jr. Shape Snow Ski with Salomon TZ5 Binding – size 70cm). We went ahead and got the Lucky Bums Ski-Trainer Harness as well, preparing for a lot of falls and a lot of hard work. We quickly discovered that at just a little over 2 years old, Whistler was born to ski. Without even trying a "bunny slope", Ben sent him on his way down the regular green slope with everyone else and he made it down just fine! He surprisingly has fantastic balance and never fell once in the two runs he tried.
*NOTE* The Lucky Bums Ski Trainer harness is not meant to hold your child up, so if they can't stand or balance on skis it may not work very well for you. What it DOES do is allow you to help them turn or keep them from getting away from you (ie Whistler doesn't know how to stop yet).
With how well he did last year, this March we decided to sign Whistler up for the Whistler Blackcomb 2 Day Ski School for Kids. While Whistler was not too thrilled with the idea of us leaving him with a stranger at first, we were confident that this was the best thing we could do to nurture his innate snow skills.
The Whistler Blackcomb 2 Day Ski School is $208 and takes places from 9am to 3:30pm on Saturday and Sunday. The kids are provided a hot lunch, snacks and multiple breaks depending on their age group and stamina level. More than just learning to ski, the kids spend the day with their instructor sliding, exploring, learning and playing. Because they're outside so much we were asked to make sure W came full equipped with warm clothing, all of his ski gear, a helmet, goggles and even lip balm. Parents are asked to watch from afar or phone in to make the transition easier on the kiddos.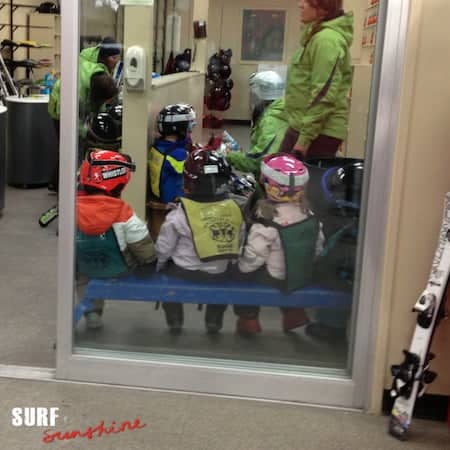 Even though the Whistler 2 Day Ski School is for kids of all ages they are broken into groups and Whistler was placed with his fellow 3 and 4 year olds. Learning and play was broken up by frequent breaks and story time between 11:30 and 1:00pm. Even though the school is focused on learning to slide and ski the focus was on creating a fun time for the kids. It was reassuring to know that there were only a maximum of 5 kids per instructor. I knew he would be receiving individual attention and that the instructor would be able to ensure everyone was kept safe as well.
By the time I came back to pick him up at 3:30 that afternoon, he was all smiles.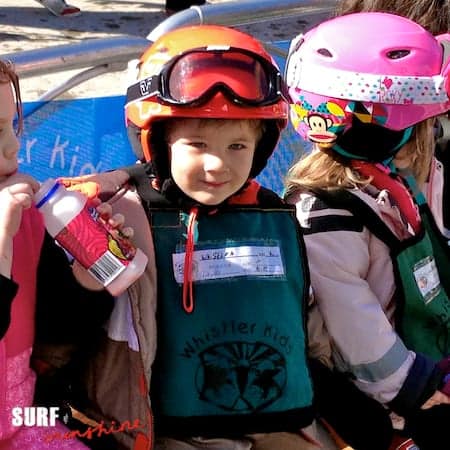 His teacher was impressed with his ability and made adaptations to her planned activities for the second day to accommodate his skills, which I thought was fantastic! By the end of day 2, he didn't want to leave Ski School or his teacher.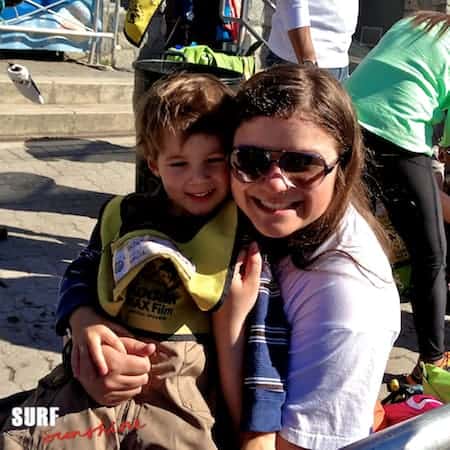 They took a few "class" photos and of course, I couldn't pass up buying them.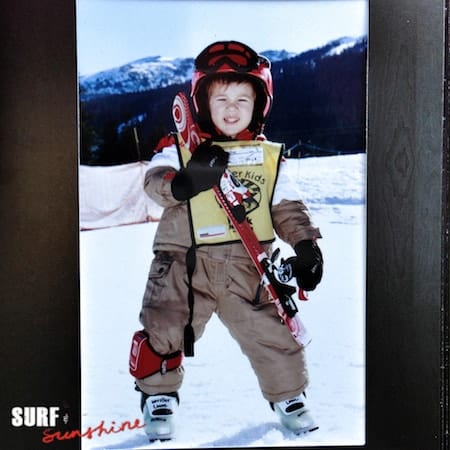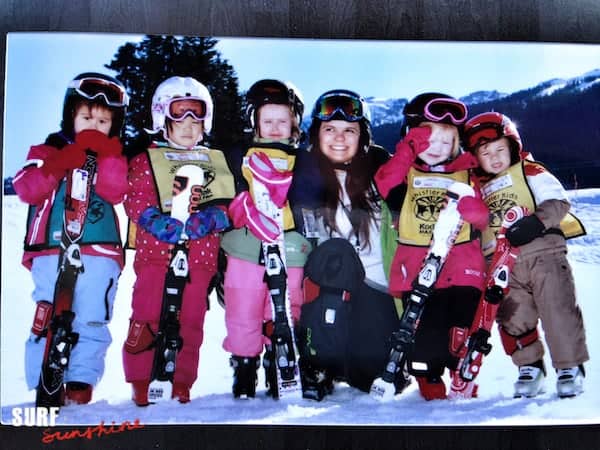 Ben and I both agreed that putting him into the Whistler Kids Ski School was well worth the investment. Not only did we see a marked improvement, but the kid just couldn't get enough. Even after skiing all day (remember class is from 9am-3:30pm!) he INSISTED that he take 1-2 more runs with Daddy until the lifts closed down. See him in action thru the GoPro mounted on Ben's helmet.
Each year he can keep coming back to the school to learn new things. Maybe someday he will get the chance to try the 
Ski with an Olympian program
. Til then, he'll just have to follow in Dad's footsteps.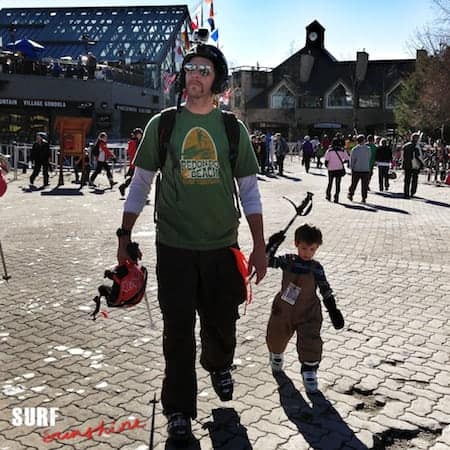 Related Posts