If you caught the KTLA Channel 5 Morning News today, you may have seen our very own Gina Moore give some great healthy grilling tips, live on air! As many of you may know (or not know), Gina is a new but very welcome addition to our team. Her photography skills are incredible (yes, you can hire her!) and I am so honored and humbled she agreed to cover this segment for me while I lounge on the beach in Mexico (more on that later). The Pritikin Longevity Center & Spa's Cinnamon Spice Grilled Pineapple Recipe she shared with you on air would make for a great summer BBQ party dessert your guests will oooh and aaahh over. See below for her take and to make it yourself!
——
This recipe is fairly straight forward. A couple of things I did experiment with is pineapple chunks on skewers and the use of a fish grill basket. They both worked great and I really liked the flexibility of the chunks as I could serve them like cute little parfaits. And really, who doesn't like cute?
Canned pineapples, both the chunks on skewers and the rings, work great, just stay on the healthy side and those that come in their own juices only (ie: no sugar added).
Cinnamon Spice Grilled Pineapple Recipe
Ingredients
1 pineapple peeled and sliced in 1/2 inch thick pieces
1 teaspoon cinnamon ground
1 teaspoon nutmeg ground
1/4 cup apple juice from concentrate
2 teaspoons vanilla extract
Plain, nonfat Greek Yogurt
1-2 tablespoons Carrington Farms Flax/Chia seeds
Instructions
Peel and slice your pineapple into 1/2 rounds and set aside. TIP: If you'd like to make this for an easy party dessert, cut the pineapple into large chunks instead.
In a bowl combine all ingredients except pineapple, yogurt, and Flax/Chia blend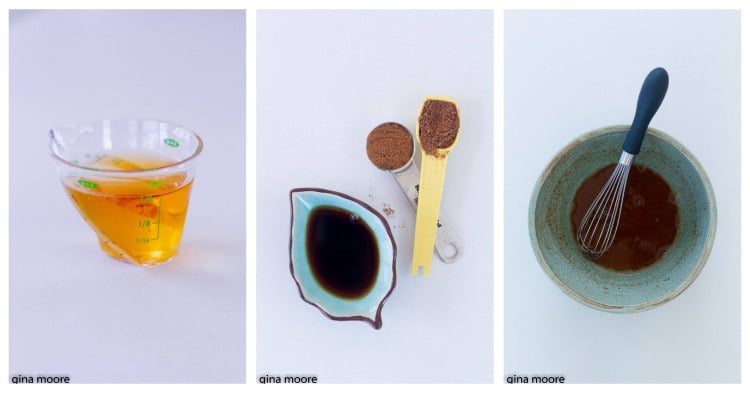 Marinate pineapple slices in mixture for 15 minutes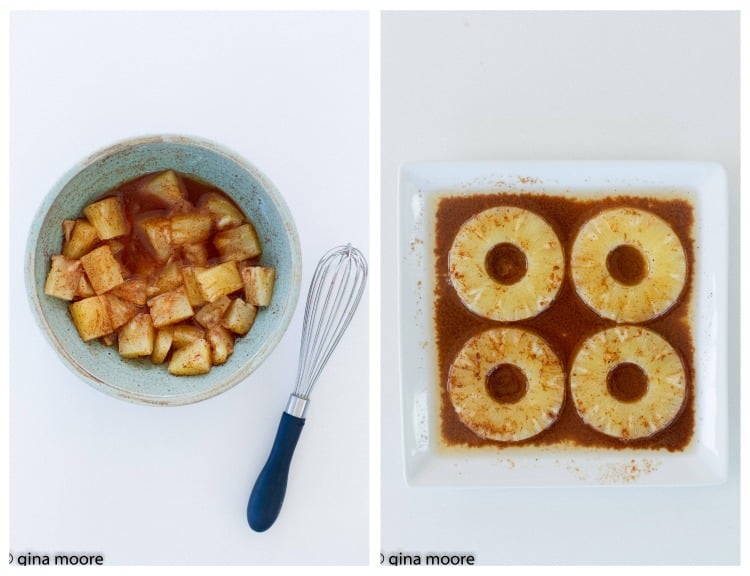 Grill pineapple on each side for 2 minutes. You can place the pineapple directly on the grill, but for ease of flipping, Gina smartly uses skewers and a fish grilling basket.
Remove from heat. Serve warm over Greek yogurt, sprinkled with Flax/Chia blend.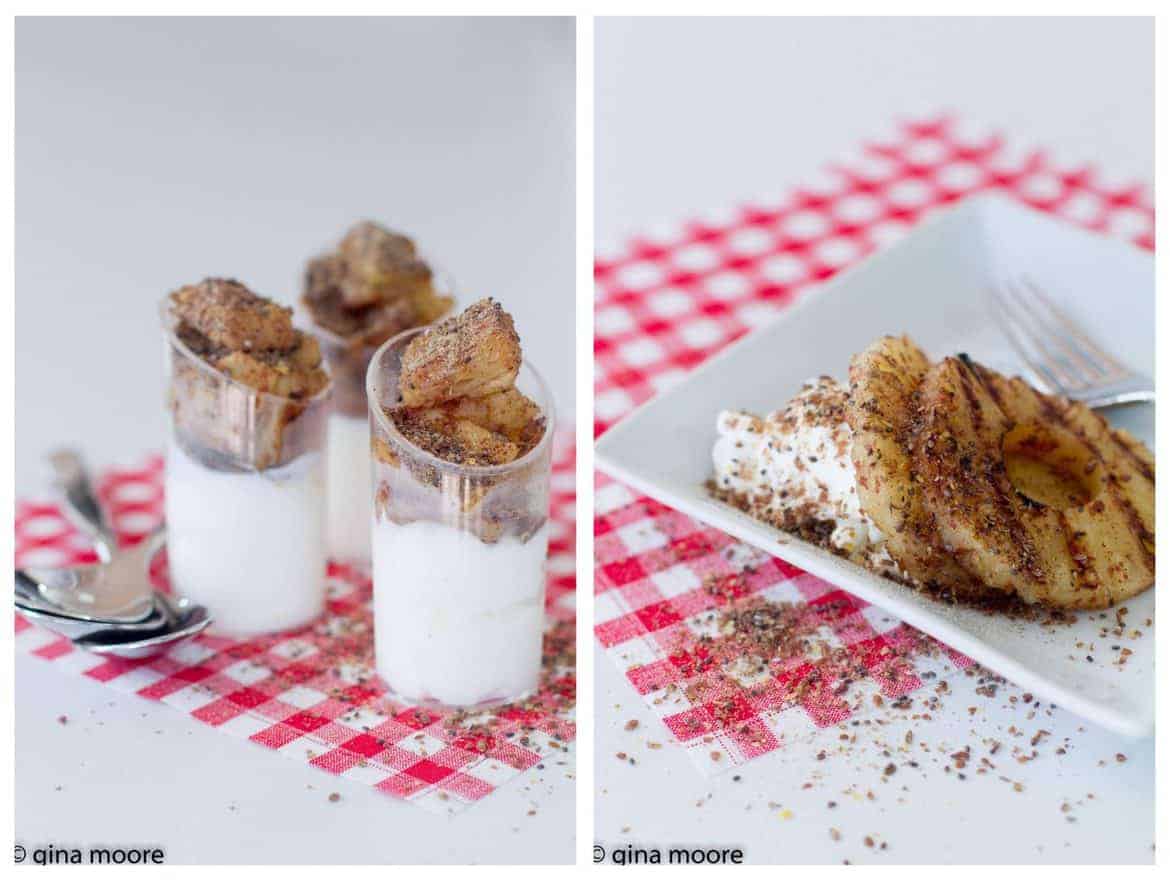 Plate rounds and serve chunks in cute little parfait cups.
Follow Gina's foodie inspiration and adventures via her blog, Pretty Little Dishes, Instagram, Facebook or Twitter. Ceramics, including the dipped and carved bowls, made with love by Gina's lovely friend, Toni of AC Ceramics.
[yumprint-recipe id='19']Summer has finally arrived and that means a plethora of barbecues, outdoor parties and more are on the horizon! Since the typical barbecue can have you eating hundreds of calories – from full fat cuts of beef, macaroni salad drowned in mayo, potato chips and more – here are a few ways to still grill up your favorite foods this summer while keeping it healthy…
Smart tips for summer grilling
(Courtesy of bistroMD)
Use spices and herbs for seasonings instead of pre-made marinades/sauces which enables the cook to control sugar and sodium.
Season freshly chopped veggies with seasonings of your choice and toss in a bit of olive oil. Then wrap the veggies into a foil pouch. Place pouch on top grill rack while meat is grilling and flip occasionally. This times your meat and your veggies to complete at the same time.
Use leftover grilled veggies the next day on a salad or as a homemade pizza topper, or use them with your leftover grilled chicken or steak for fajitas.
Grill sliced pineapple and serve warm over Greek yogurt for dessert.
KTLA Segment Sponsors: Pritikin Longevity Center & Spa, BistroMD, Carrington Farms. All opinions remain our own.