When I tell people that the place with some of my favorite beaches in the world is in Cambodia they look at me as if I am maybe I am delirious from heat stroke. Cambodia is known for many things, a lot of them we want to bleach from our memories, but beaches? Yes, beaches. World class, white sand, clear water beaches. And best of all, for however long it will last before it is discovered, still blissfully off the well-worn tourist trails of Southeast Asia.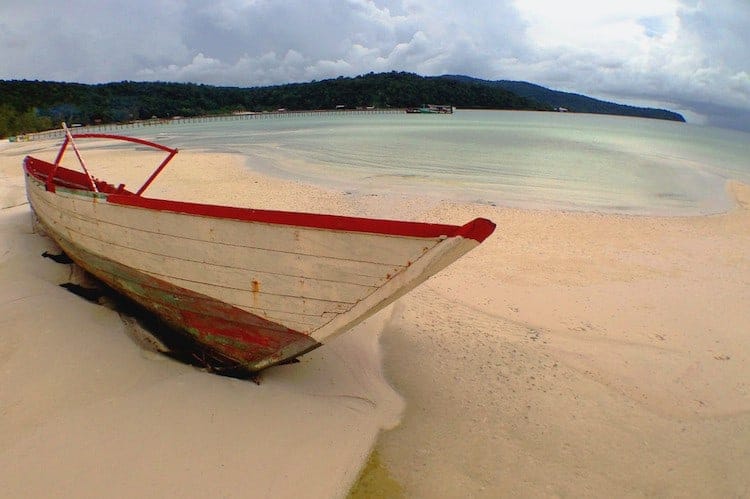 The island of Koh Rong Saloem, in the Gulf of Thailand is not the easiest place to get to. Yes, there are occasional flights to Sihanoukville, the town located nearest the island, but most people choose to start from the capital of Phnom Penh, Cambodia and take over land transport, about a three and a half hour drive to Sihanoukville. From there you are deposited at a dock where you meet a rickety old boat that will, in about two hours; transport you across gin colored waters to the tiny island and seemingly a
different era.
Koh Rong Saloem's main, and about only, place to stay is a "resort" known as "Lazy Beach". I use the term resort in the most generous of terms because "resort" conjures up scenes of bow tied waiters delivering rum drinks to coconut oiled vacationers in chaise lounges sitting by the pool, trying to find a few days bliss before getting on an airplane and returning to their cubicle. All Lazy Beach has to offer is the bliss; and that is what to me makes it perfect.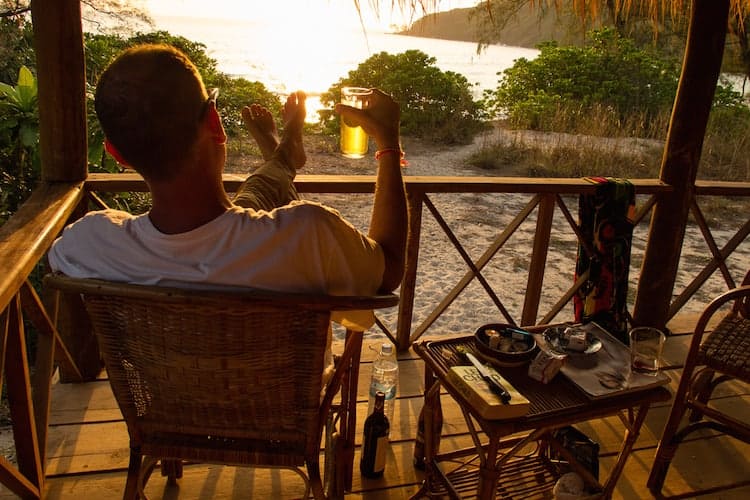 After you are dropped at the dock – well on good days you are dropped at the dock, on bad days you have to get in the water and wade to shore – you are escorted to the restaurant / lounge / reception area and given a welcome drink. After a quick briefing about when electricity is available and restaurant hours you are given a key and directions to your hut. Yes; your hut. No A/C, no hot water, no screens on the windows, no television, no Wi-Fi. But, there are mosquito nets, cool tropical breezes and the sounds
of surf.
Days at Lazy Beach are spent frolicking in the water, snorkeling, hiking in the jungle and well; being lazy. It takes a while but eventually you start to unwind and quit checking the time. You learn to pick favorites from the delicious restaurant menu and take the time to actually savor them (the chef has left cookingfor five star hotels for the relaxed island life.) You start talking to the other residents and the cosmopolitan staff. You start petting the resorts rescue dogs, watching the parrots and the butterflies,
and begin to have a bit of amnesia about the stress of real life.
One night while walking, phosphorescence began to cover the beach and in the moonless sky the stars looked close enough to reach out and stir with my hands. One beautiful early morning I came across some monkeys looking for crabs on the beach. That is what I take away. It is one of those places that is hard to quantify. When people ask me why I like it so much I can't put it into words. It is more like a feeling. A wonderful feeling and a favorite among many.