Hotel Xcaret Mexico is sure to be THE place to stay in Riviera Maya for those that require lux digs, scrumptious eats, ultimate relaxation with a plethora of choose your own adventure.
Carved between the Caribbean Sea and the lush jungles of Riviera Maya I found Mexico's newest gem, Hotel Xcaret. A five star, all-fun inclusive resort that really means ALL inclusive.
Newly opened on December 1st, 2017, I had the unique opportunity of checking out Hotel Xcaret Mexico earlier last month to see what the new resort had to offer in what would seem to be a sea of oversaturated options in the Cancun area. As it turns out, there is quite a lot!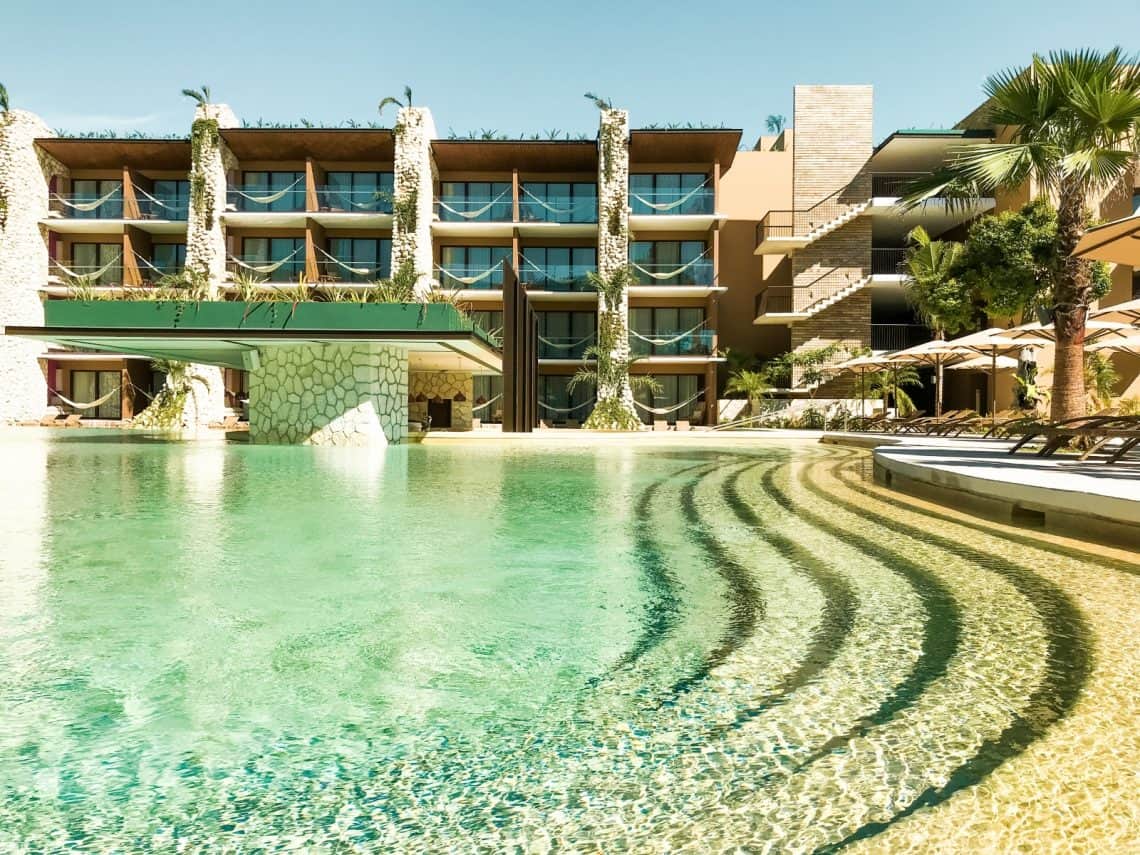 Built around existing natural features, the 900 suites are set along hiking trails, 3 gyms, a spa, 8 pools, underground rivers and natural swim areas that will take your breath away.
The all-suite resort features spacious havens with a minimum of 575 sq feet and luxury "all-inclusive" goodies we all love: a minibar restocked daily, jacuzzi tubs, nightly turndown service, and comfortable hammocks on each balcony or terrace.
As with any luxury product, attention to detail and thoughtful design is what often brings the experience to the next level. At Hotel Xcaret Mexico, all the art and even textiles are hand made by local Mexico artisans.
I really love that the art & textiles at #HotelXcaretMexico are hand made by local #Mexico artisans. This pillow took 3mos to make! #travel pic.twitter.com/w1SqnrFqYJ

— Jeana Shandraw (@SurfnSunshine) November 1, 2017
The resort itself is expansive and most guests would never have a problem staying on property the entire time. Luckily for those that love to explore, Xcaret Hotel also provides access to way more than your typical resort.
ALL-Inclusive Fun
I've stayed at numerous "All-Inclusive" resorts throughout my travels but I can honestly say this might be the most all-inclusive resort I've ever encountered.
Most resorts of this type offer complimentary day and night time activities on property but at Hotel Xcaret, you also get full unlimited access to Xcaret's nature parks, tours, and dining plans. ALL OF THEM. Activities and excursions that usually cost extra (or use resort credit) at other parks like incredible cenote excursions, eco-archaeological parks, cultural activities, Chichen Itza tours, and more.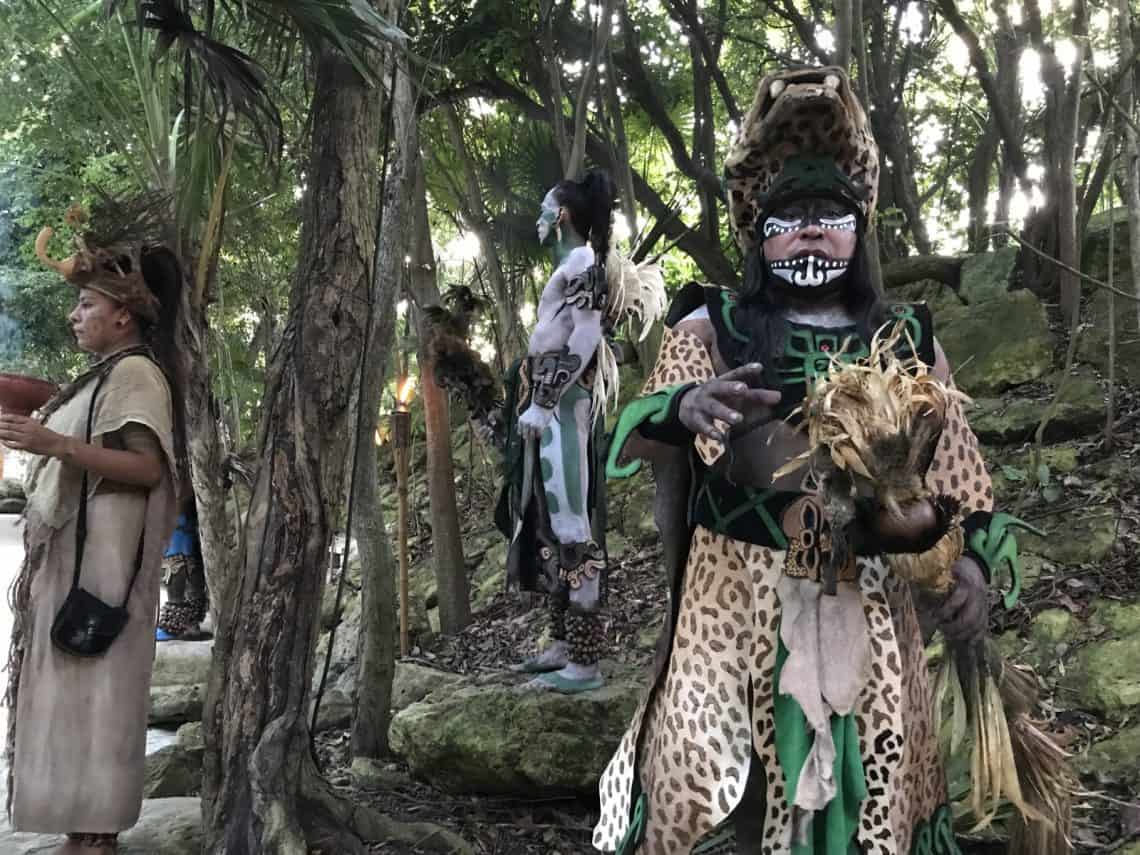 Even your transportation is covered! Hotel Xcaret Mexico provides round-trip transportation to and from the airport, as well as for the included parks and tours. I'm not sure any other resort offers the same perks.
All Inclusive Restaurants
If you're anything like me, food plays a huge role in my travel experience. I could stay at a mediocre resort with amazing food and be much happier than at a luxurious resort with paltry eats.
And lets be honest. All-inclusive resorts aren't normally known for their food. We sort of make this willing sacrifice of happy tastebuds for happy wallets. But not at Hotel Xcaret Mexico. They will be breaking the mold on this one, I'm sure of it!
My waiter just said "You are my queen today". Clearly I'm dreaming that I'm in paradise… so don't wake me up.

👑🍹🌴🌊#hotelxcaretmexico #LuxuryTravel @hotelxcaretmx pic.twitter.com/chGUpIxlCa

— Christa Thompson (@FairytaleTVLR) December 2, 2017
HA'
Home to the first Mexican Chef to earn a Michelin star, be prepared to indulge in some seriously delicious cuisine at Ha'. This is the only restaurant on property that requires an additional fee for a culinary experience – but is well worth it.
LA TRAJINERA
Named after, and architecturally inspired by, the colorful boats known as the Trajiners that once sailed the canals of the Xochimilco lakes, this restaurant serves up dishes from land and sea with a little Caribbean flair. It's open for breakfast, lunch, and dinner by the main pool and has a relaxed casual vibe.
MEXICAN STEAK HOUSE
A Cantina is a place in Mexico where the locals go. Where they meet family and friends to enjoy a delicious meal, cocktails, and good music. This is what sets the stage for this Mexican Steak House. Cocktails, Tequila, Mescal, and Steaks are the stars of the menu but you will also find a variety of appetizers and even a snack menu.
EL MERCADO
El Mercado is like taking your taste buds on a tour of Mexico. 10 stations each feature a unique style and recipes using fresh ingredients from a different region throughout the country. The restaurant is located in the Casa Grande and is open for breakfast, lunch, and dinner.
Imagine this: a super fresh #farmtotable concept where you pick the ingredients &👨‍🍳 will prepare *anything* you want! #HotelXcaretMexico pic.twitter.com/3zzoBzpYRK

— Jeana Shandraw (@SurfnSunshine) November 1, 2017
CHIBALI
The perfect family restaurant, Chibali serves up food buffet style with themed stations and snackbars for breakfast, lunch and dinner. It's also conveniently located right next to the Kids club!
TEATRO DEL RÍO
Dinner and a show are provided at Teatro Del Rio. Set in front of a riverfront stage the dining lounge has an expansive tasting menu.
XIN-GAO
Mexican cuisine is delicious but sometimes mixing it up is necessary. Xin-Gao serves up Asian cuisine over Teppanyaki, Robata Grills, a Western tatami and a sushi bar. It's also a great place to grab drinks with a mixology bar too.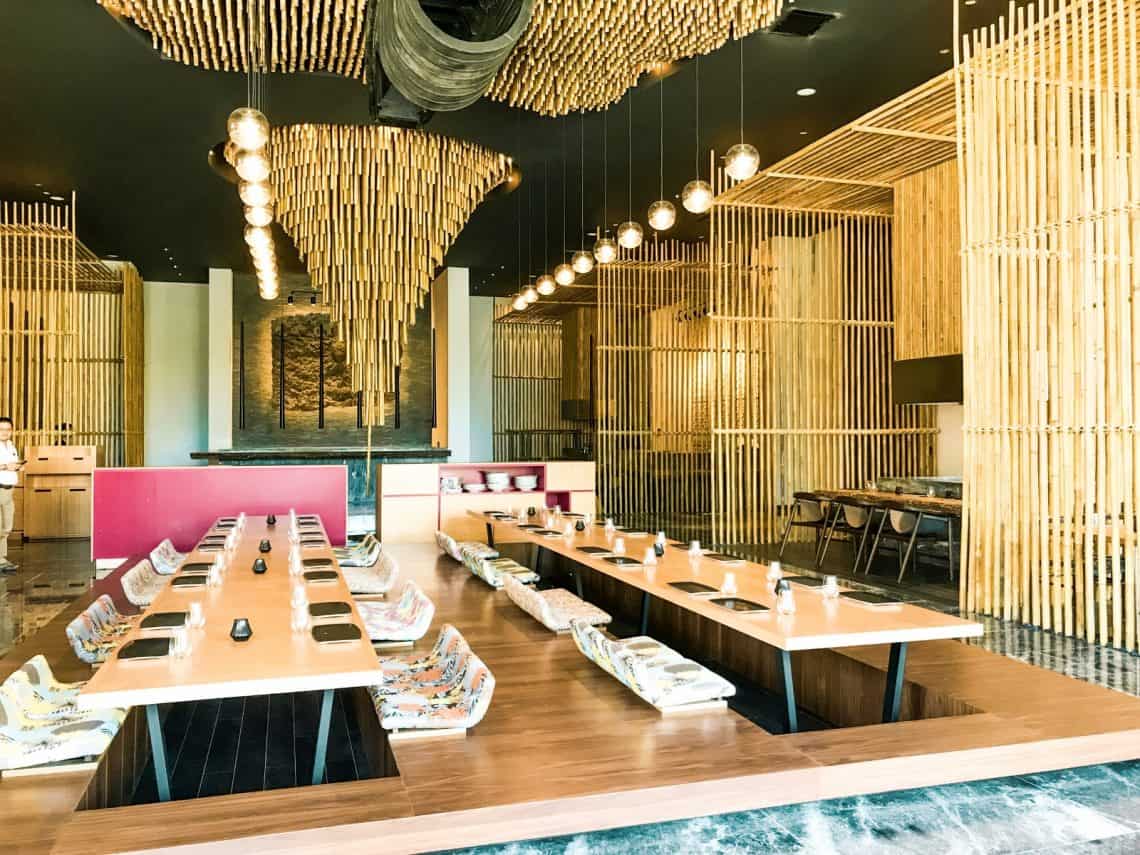 LAS CUEVAS
Las Cuevas is where the adults go to enjoy a dining experience. The menu features Mexican specialties paired with the perfect Mexican wine for each dish.If you are in the chilling mood, just sip a glass of wine or smoke a Cuban cigar, you can take advantage of the Wine and the Cigar Bars.
FUEGO RESTAURANT
One of the resorts more intimate restaurants, Fuego dinner specials include lamb, pasta with mussels, gourmet morsels, vegetarian croquettes, and fondues.
LAS PLAYAS
Las Playas has a relaxed but upscale atmosphere the reflects the Caribbean ocean. It serves fresh cuisine in the afternoon and a fusion of spices in the evening from a variety of places around the world including the Mediterranean, India and the Caribbean.
Las Playas is open for lunch and dinner, reservations are required and it is exclusive to guests at Casa Fuego.
The evening takes on a whole new vibe at @hotelxcaretmx

Pure elegance.

I feel like I'm in a fairytale paradise!!!#HotelXcaretMexico #LuxuryTravel pic.twitter.com/kfFsTuUKnx

— Christa Thompson (@FairytaleTVLR) December 2, 2017
Kids Club
While the entire resort is family friendly, there are some amazing amenities designed just for kids. Hotel Xcaret Mexico has two awesome Kids Clubs: Xiiquillos Kids Club for kids age 4-12 and the Xiipaal Teens Club for those 13-17.
Daytime programming and visits to the facility are included. There is also babysitting available for an additional fee so parents of littles can enjoy alone time too.
Let's talk kids @xcarethotel just look at the play zones for little angels! #hotelxcaretmexico pic.twitter.com/0uDYqtJbF9

— Christa Thompson (@FairytaleTVLR) November 1, 2017
Spa
A sanctuary carved of rocks and stone Muluk Spa & Wellness, offers a variety of ways to recharge your batteries and escape the stress through their Temazcal, Flotarium, and Hydrotherapy Circuits. The spa also offers beauty treatments including facials and body treatments too.
The saunas and hydrotherapy at the #HotelXcaretMexico spa are built into the natural surroundings and sit on a turquoise river.

WOW!!!! 👀💯👑

RT: @JoshEstrin @SurfnSunshine @hotelxcaretmx pic.twitter.com/rROQjnqE9l

— Christa Thompson (@FairytaleTVLR) December 3, 2017