What did women do before baby monitors? I swear if I hadn't had one I would have never slept. The peace of mind they provide is priceless. Even today as our babies evolve into this walking, talking, little people the need to watch over them remains.
The VTech Safe & Sound VM333 Pan & Tilt Baby Monitor provides peace of mind for moms of babies and moms of preschoolers. The Baby Unit features Infrared LED allowing for night time vision and the camera also pans up to 270 degrees side-to-side and tilts as many as 124 degrees up and down. It even zooms up to 2x, making it ideal for watching over babies or keeping up with active toddlers.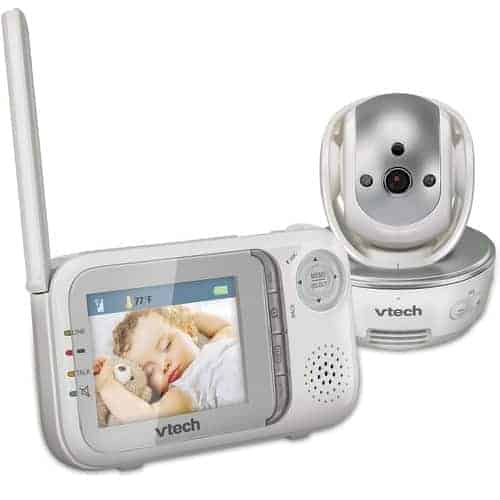 Meanwhile the "Parent" Unity offers multiple viewing options including: single view, split view and patrol mode. It also offers Full-Motion Video, with up to 25 frames per second. It even boast a Temperature Indicator so you can make sure its not too hot, and not too cold, just right. It also offers a high-resolution, 2.8-inch color LCD, Talk-Back Intercom, silent vibration alerts, and a 5-Level Sound Indicator.
While the obvious use for a baby monitor is, well, to monitor a baby – wouldn't it be nice to be able to extend it's use to beyond the "baby" years? To actually make use of a "baby" item for years longer than you thought you ever would? Well I'm here today to show you that you can do just that with the VTech Safe & Sound VM333. While it isn't wi-fi enabled, there are still plenty more ways that we use it around our house (after all, our son is almost 5 years old now!)
9 Reasons To Keep Your Video Baby Monitor
Our proudest alternate use idea is to upgrade the tech in your car. We both drive vehicles purchased in 2003 or earlier and have turned the "baby monitor" into a rear backup camera! All you need is a power inverter so you can plug it in, and you can place the camera in your rear window while placing the parent unit up front with you. Genius, right?

Another way to put it to good use in your car is so you can have some peace of mind for little guys still stuck in rear facing car seats. Put the camera on the rear dash and you'll be able to see how your little one is doing without having to turn around.
If your child tends to get fussy in the car, you could switch and put the camera facing you and the parental unit in back so your baby can see your face!

BBQing during a game? Put the monitor in front of the TV and take the parent unit out while you grill! You can listen while you cook and never have to ask "what did I miss?".
Am I the only one who has missed a package despite never leaving the house? Sometimes it's impossible to hear the soft rap on the door, or they arrive during the 5 minutes I decide to shower. Now you can keep an ear on the door with your video monitor and take the parent unit with you so you can listen for the knock!
Keep an eye on your kids in the back yard while you catch up on the laundry, dishes, etc.
Does anyone else hear phantom cries while they're in the shower? I swear my child is dying during the 5 minutes I shower. Having my eyes and ears in the playroom provides peace of mind.

Set up the monitor in the bathroom (the wall mount comes in handy here!) to make sure kids wash hands/wash face and brush teeth properly without having to stand right there beside them. This actually works even when you aren't watching because you know what – they won't know. The camera never sleeps, right?
"To Catch A Predator". No, we're not talking about a CNN Special. Despite living in populous LA, we have a surprising number of wild critters that keep trying to call our back yard 'home' and our garden 'dinner'. The Night Vision is not only perfect for catching them red pawed, but also for knowing just what you're up against.
Take advantage of the talk back intercom to use them like walky-talkies. He's on the roof fixing the dish, and you're in the house watching the channel go in and out on yelling "left, right, HOLD" and somehow he keeps going right? Problem solved.
Last but not least, to provide some comfort to your kids (ok, mom and dad too). Even though we have a "big boy" now, Whistler's room is still far from ours. By keeping the monitor in his room it provides both confidence and peace of mind, for all of us. He knows we can see and talk to him, and the unit's night vision LED acts as a nightlight in defense of the boogey man.
Do you have any unique ways you've found to use a baby monitor? We'd love to hear about them! Follow VTech on Facebook, Twitter, Google+ and Pinterest for more cool products, tips and tricks.
This post is written on behalf of VTech through Mom It Forward by me. All opinions are 100% mine.