We cook EVERYTHING on the grill. And by everything, I really do mean everything. In addition to the standard meats and vegetables, we love grilling crab legs, lobster, peppers, beans, artichokes, sandwiches and home made pizza! Our gas BBQ Grill is how we prepare 90% of our meals. So when DIGIORNO® asked me to try their new pizzeria!™ from DIGIORNO®, of course the first thing I thought was "I wonder how well this would do on the grill?"
New pizzeria! from DIGIORNO® starts with a crust that's golden crispy on the outside, soft and airy on the inside and drizzled with extra virgin olive oil. The crust is topped with a new flavorful sauce made with vine-ripened tomatoes, garlic and herbs – then finished off with premium quality meats, cheeses and vegetables. This pizza offers the flavor and texture of true pizzeria-style pizza fresh baked right in your own oven.
Oven, shmoven. Let's fire up the grill and see how this baby cooks up! We decided to invite everyone over for Father's Day and do just that. Unfortunately, when I went to the store everyone else must have had the same idea because the only DIGIORNO® pizzeria!™ options left were pepperoni or plain cheese. This actually worked in our favor since we had 12 guests, we wanted to be able to offer a variety of pizza to choose from. So I chopped up some toppings made a couple different types.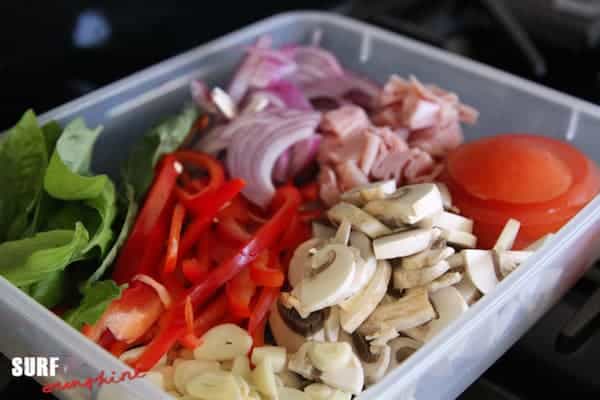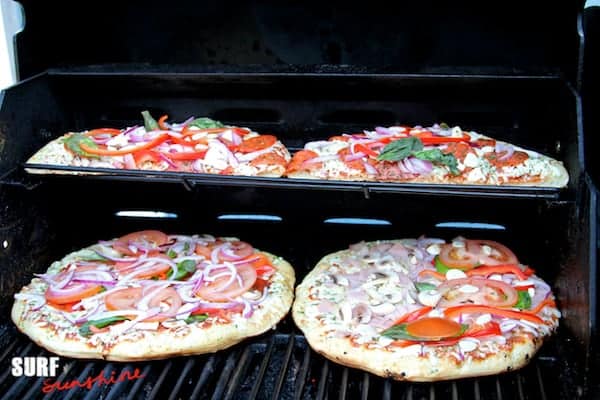 Now the key to grilling pizza is that you need even heat throughout. If you are going to use the bottom rack, you'll need to put it on low and cook them longer than usual (about 30 minutes) to avoid burning/charring the bottoms. (or you can use aluminum foil to help reduce charring as well) If you find your BBQ doesn't give even heat and you're cooking just the bottom, don't worry. You can finish it off in the oven and it'll turn out just fine :)
Personally, I like the quick cook option which is to dial your grill up to high heat and place your pizza on the TOP rack (away from the flames). It comes out perfect for me every time this way after about 15-20 minutes! (make sure you check on them often) Since we needed to get 3 pizzas cooked at once on the grill, as you can see we ended up doing both methods.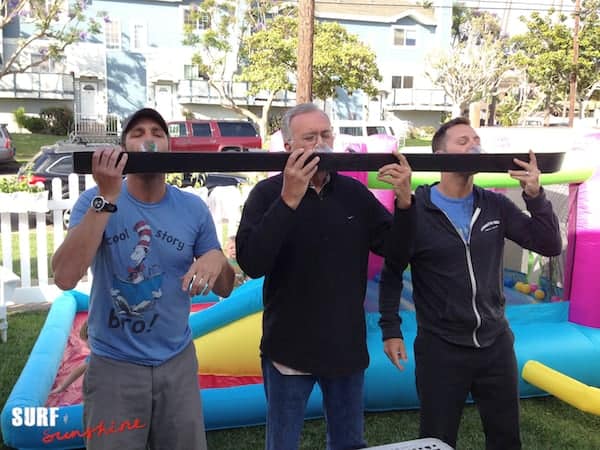 So, just a couple Father's Day ShotSki's later and we had some really delicious pizzas that everyone raved about. Even though we added veggies to the pizza, I could tell this new pizzeria style was going to be our new favorite to buy. We always buy this brand, but there is something about this crust that is simply delicious! Thanks DIGIORNO for helping create one of the best Father's Day celebrations we've had in a long time!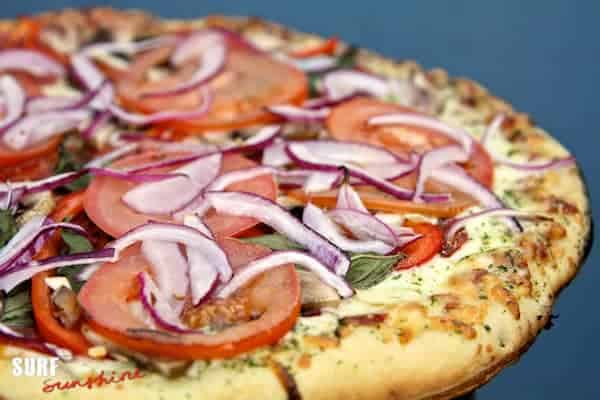 If you'd like to try one of the 4 new DIGIORNO® pizzeria!™ flavors for yourself, be sure to take advantage of this $2 off coupon.