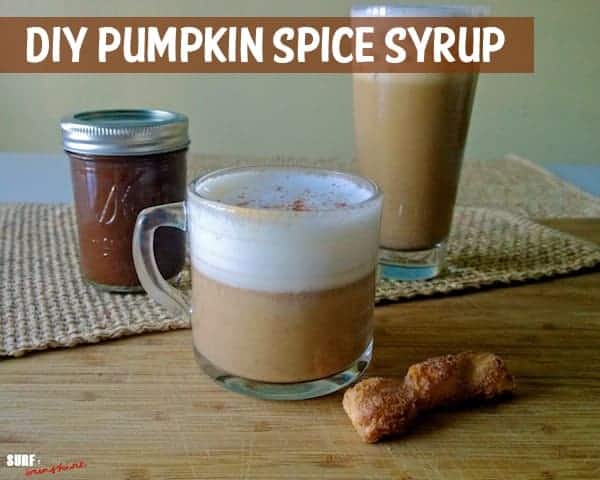 I'm a daily coffee drinker. Day in, day out, I can count on brewing and drinking AT LEAST 4 cups of coffee to help fuel my day as a busy mom and blogger. While I love the great taste of my new found best friend as part of my morning routine, one of my favorite parts of autumn are the holidays and the seasonal spices and flavors that come with it.
Like most, I'm a sucker for a nice cup of Pumpkin Spice Latte, but I almost stopped drinking them from my local coffee shop when I found out what exactly is in their pumpkin spice syrup. Not only is there no actual pumpkin in their "pumpkin" spice syrup, but it's made from mostly sugar with traces of condensed nonfat milk, sweet condensed nonfat milk, annatto (a colorant), natural and artificial flavors and caramel coloring. According to this, my vegan and lactose intolerant friends would have to do without, and that wouldn't be very festive now would it?
As someone whose trying to be more conscientious about what I eat, I almost thought I would have to bid farewell to the iconic pumpkin spice lattes that I love! (sad face) That is, until my wonderful contributor Melissa heard my pleas and came up with her own pumpkin spice sauce that can be made at home! Not only does it only include just four main ingredients, but it can be made in as little as 15 minutes and creates a batch that can be stored for up to three weeks when tightly sealed in the refrigerator.
Even better? I can add this to my coffee on the mornings I'm feeling extra festive at ANY time of the year, not just fall! Christmas in July? Why yes, yes it is. So if you want an easy, affordable, and all-natural pumpkin spice sauce recipe that you can make at home, you should definitely give Melissa's version a try! You won't be sorry.
Cook time: 12 minutes
Ingredients:
1 ½ cups water
1 ¾ cups cane sugar
3 ½ teaspoons pumpkin spice seasoning
¼ cup pumpkin puree
1 teaspoon vanilla extract
Instructions:
In a medium saucepan, add water and sugars. Simmer on medium-low heat until the sugar dissolves, about 4 minutes. Do not let the sugar water come to a boil.
Turn the heat down to low and whisk in pumpkin spice seasoning and pumpkin puree. Simmer for 8 minutes, stirring occasionally.
Remove from the heat and strain through a mesh strainer lined with a cheesecloth or a clean tea towel to prevent pumpkin clumps.
Allow the syrup to cool to room temperature then stir in the vanilla extract. Store in a mason jar or airtight container. Store your pumpkin spice syrup in the refrigerator for up to three weeks. Enjoy!
Tips:
For a slightly sweeter taste, consider using ¾ cups brown sugar with 1 cup granulated sugar for a more caramel pumpkin flavor.
If you keep multiple ingredients at home, you can also switch out using pumpkin spice seasoning for 2 teaspoons cinnamon, ½ teaspoons ground ginger, ½ teaspoon cloves and ½ teaspoon nutmeg but you will often find that the same ingredients and ratios are included in pumpkin spice seasonings and cut down on the prep time.
If you want it to taste like a Pumpkin Spice Latte and not just pumpkin spice syrup in coffee, brew the coffee with equal amounts of coffee and water to make it more of an espresso.