This post brought to you by Wendy's. The content and opinions expressed below are that of Surf and Sunshine.
Halloween time is upon us! My daughter has two costumes this year, her usual princess costume as well as a Navy Sailor costume. What can I say? That's how we roll in our house. Last year, Halloween was incredibly exciting with trick or treating at amusement parks, at home in our neighborhood and also at a couple of Halloween parties too. This year we're doing it all over again, right in the midst of a crazy travel season. Needless to say, I do not have time to put together the cutesy Pinterest inspired goodies that I gave out for last years Halloween parties. So this year I was on the hunt for an easy treat to fill the goodie bags, that would also excite the kids.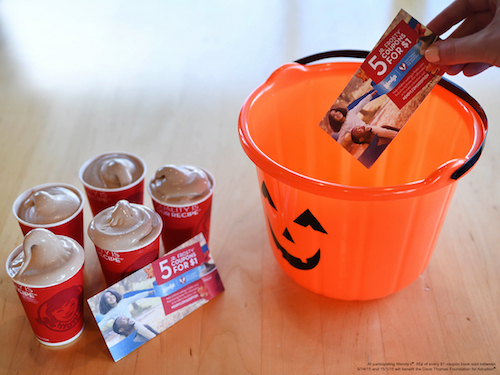 With perfect timing I learned that Wendy's offers Jr. Frosty™ Halloween Coupon Books filled with 5 Jr Frosty Coupons and it cost only $1! I could get enough coupons for the Halloween party for only $3 and it only took me the time to order, pay and pull apart the booklet.
Now I'll admit, I had never heard of these awesome Halloween Coupon Books before tonight. I also had no idea that an even happier surprise was on the inside of the booklet. Eighty five cents to every $1 coupon booklet sold until 10/31/14 will benefit the Dave Thomas Foundation for Adoption®.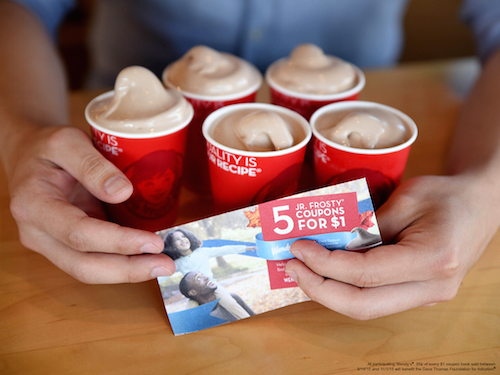 Since my husband and I began to discuss having children, adoption has always been a part of that conversation. His mother was adopted as an infant and we're highly aware that if that hadn't happened, he would have grown up half a world away from me… if he would have even existed at all. Did you know that there are more than 130,000 children in foster care awaiting adoption? As founder Dave Thomas said, "These children are not someone else's responsibility. They are our responsibility."
For 22 years, Wendy's® has supported foster care adoption. The Dave Thomas Foundation for Adoption® believes that we have a responsibility to be the voice of foster care adoption, so that every child finds a family. The DTFA exist to find homes for children who are waiting to be adopted from foster care in North America. Thanks to Wendy's® consumers and the Dave Thomas Foundation for Adoption®, 4,000+ children have found adoptive families. For more info visit Wendy's adoption page.
Instead of handing out candy this Halloween, consider purchasing a Wendy's Halloween Coupon Book! Your Trick-or-Treaters will love coupons for free Wendy's Frosty treats and you will feel good knowing that you're supporting the quest for forever families for children waiting in foster care. It's a win-win!
Visit your local Wendy's® to purchase a Jr. Frosty™ Halloween Coupon Book* for $1, which benefits the Dave Thomas Foundation for Adoption!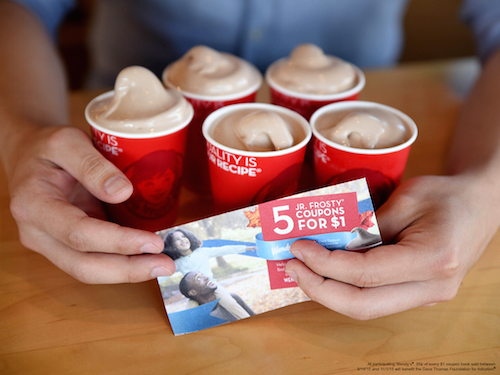 *Coupon book may contain coupons for 5 or 10 free Jr. Frosty™ treats. Prices and participation may vary. Eighty Five cents to every $1 coupon booklet sold between now and November 1st will benefit the Dave Thomas Foundation for Adoption® including programs such as Wendy's Wonderful Kids. Number of coupons per book vary based on location.