If you're looking to do some paddle boarding in Southern California, I highlight some of my favorite spots to stand up paddle board where you can mingle with local wildlife or have the ultimate full body workout while showing off your mad Yoga skills.
Stand up paddle boarding (SUP) has increased in popularity during the last two years due in large part to being a fun way to play in almost any body of water with minimal gear.
Not only is it fun, it's a great way to get up close and personal with gorgeous scenery and wildlife that doesn't take a whole lot of training or skill.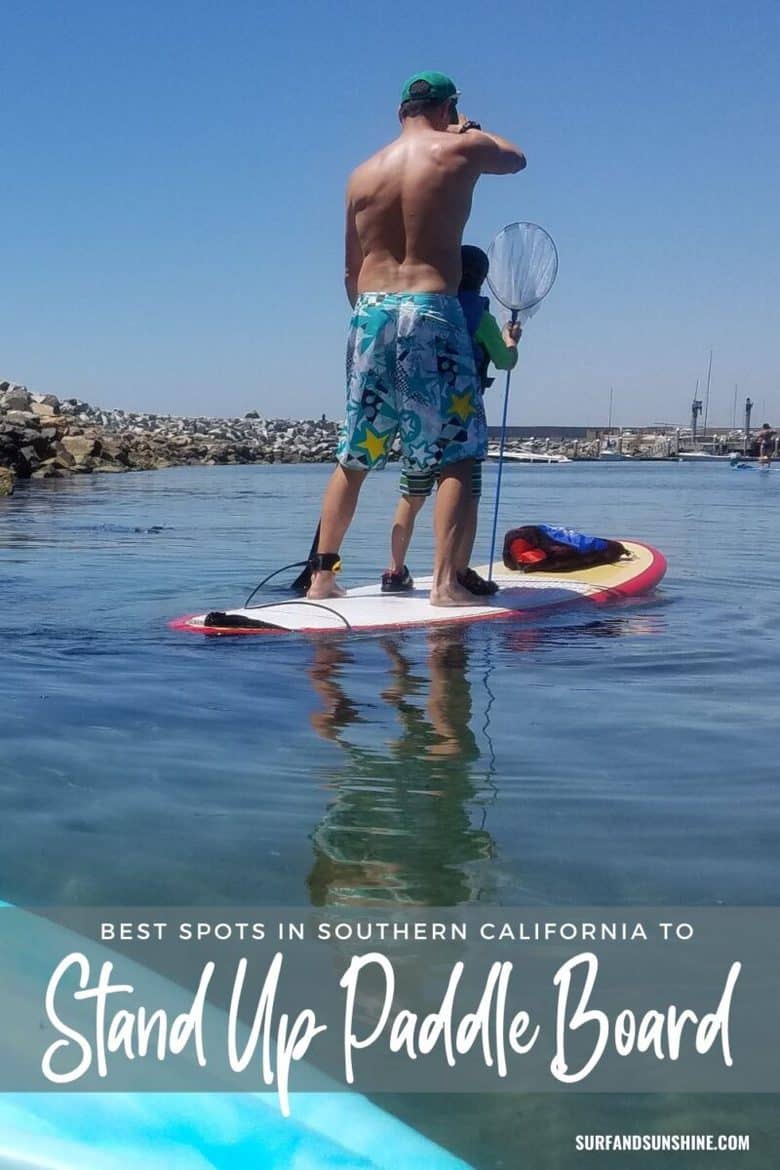 If you are asking yourself "Where can I go paddle boarding?" this summer, here are the best spots in South California for SUP. Have fun this summer on the water!
Paddle Boarding in Los Angeles
Redondo Beach (King Harbor)
Located in LA's South Bay region, you'll find lots to do in Redondo Beach King Harbor and it is a must visit on any SUP California bucket list. 
The harbor itself is SUP friendly with on-site rentals and is our #1 favorite spot to paddle board because of the ease of access and the wildlife.
From crabs to sting rays and local sea lions who have a dedicated floating platform, there is always something entertaining to see while paddle boarding in Redondo Beach.
If you venture outside the confines of the harbor, it isn't uncommon to have dolphins and even migrating whales swim by!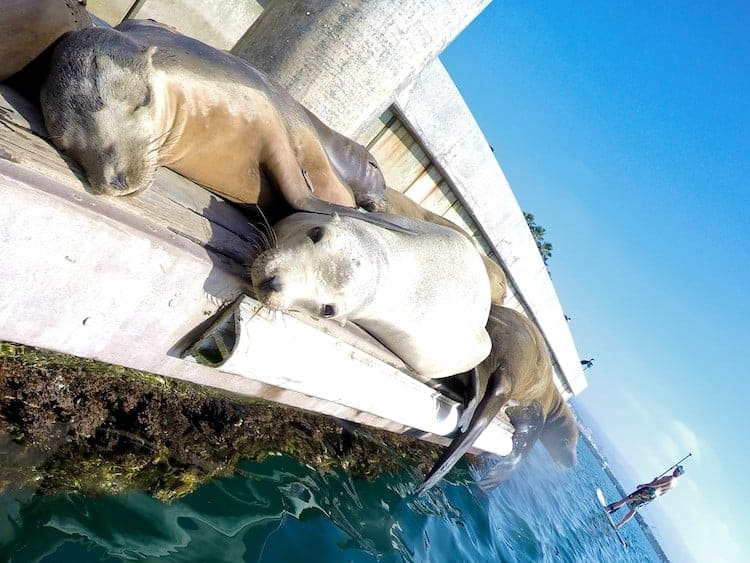 We have our own boards, but we recommend Paddle House if you need a Redondo Beach paddle board rental.
It's also a great place to spend the rest of your afternoon with a variety of restaurants from casual to fine dining and other recreational activities like boating, swimming, fishing, shopping, and biking.
As residents and long time locals, we also recommend these favorite family friendly things to do in Redondo Beach, so be sure to leave some time to explore.
Marina Del Rey
Because of its inlet, Marina Del Rey is a great spot for beginner SUP boarders all the way to advanced racers.
There are 3 different places to rent paddle boards if you don't have your own and at least one of the rental locations (Paddle Method) offers lessons too.
Paddle boarding Marina del Rey offers gorgeous sunsets, wildlife and proximity to the Venice Beach Boardwalk. All make this an excellent place to spend the day enjoying the beautiful Los Angeles coastline. 
Orange County Paddle Boarding
Dana Point
If you're looking to SUP paddle with a view, it doesn't get much better than Dana Point paddle boarding with it's seven miles of coastal bluffs and scenic rolling hills along the Pacific Ocean.
Launch from the Dana Point Harbor or turn it into a weekend trip with a stay near Doheny State Park – one of SoCal's most popular beach parks with 62 acres of open space featuring camping, picnicking, swimming, surfing, bicycling, and tide pools.

When I was a kid we used to spend hours just catching little crabs in the rocks with nothing but some bologna tied to a string. We'd put them all in a bucket with some water to see how many we could get, and then let them all go at the end of the day.
Newport Beach (Back Bay)
If you're looking for calm waters and a leisurely paddle along gorgeous scenic views, then Back Bay is exactly where you will want to be to paddle board Newport Beach.
The bay is full of nature, birds, snails, flowers, plants, hiking trails, bicycle paths, and stunning views of expansive blue skies and water.
The water is calm and great for beginners or someone just looking to take it easy.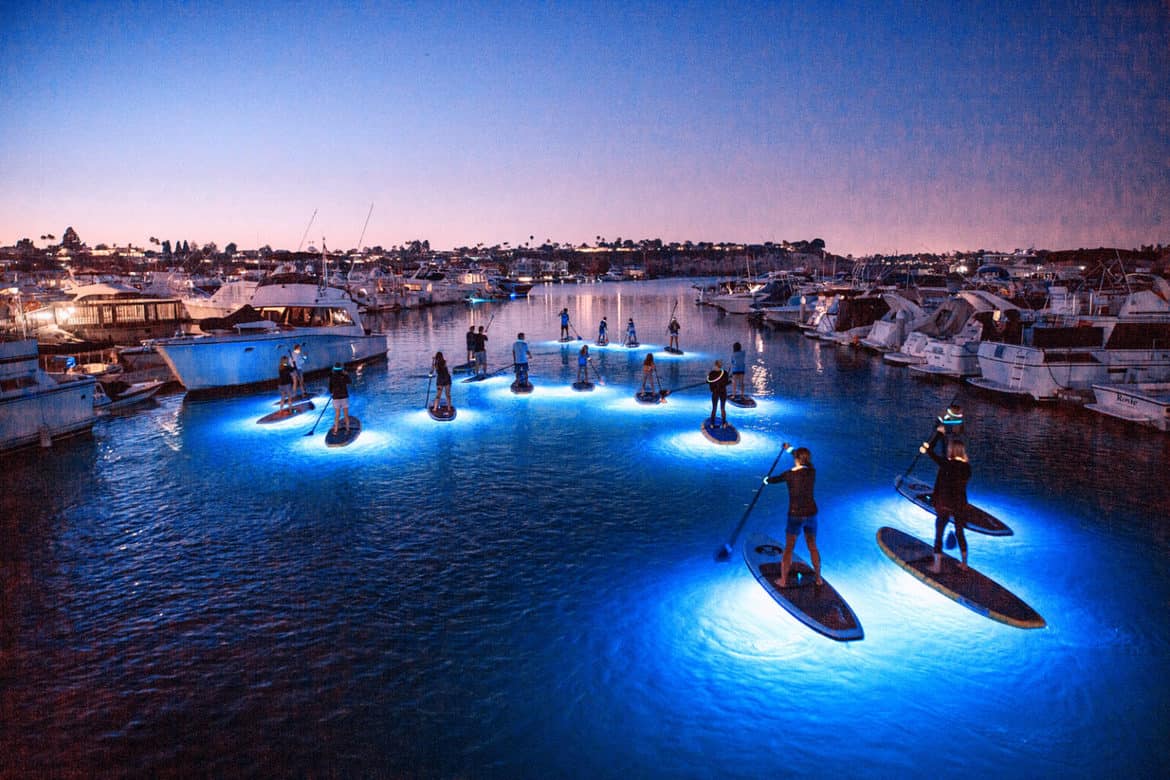 Pirate Coast Paddle offers a night-time paddle experience called SUP Glow with LED lit boards that's sure to be a memorable experience.
Stand Up Paddle Board San Diego 
Mission Bay
Surrounded by 27 miles of meandering shoreline of sandy beaches, the interconnected network of waterways, inlets and islets that make up Mission Bay make it one of the best spots in San Diego for stand up paddle boarding.
With it's calm waters, the bay is an ideal place for every age and skill-level to enjoy the water and there are two SUP board rental locations along the bay.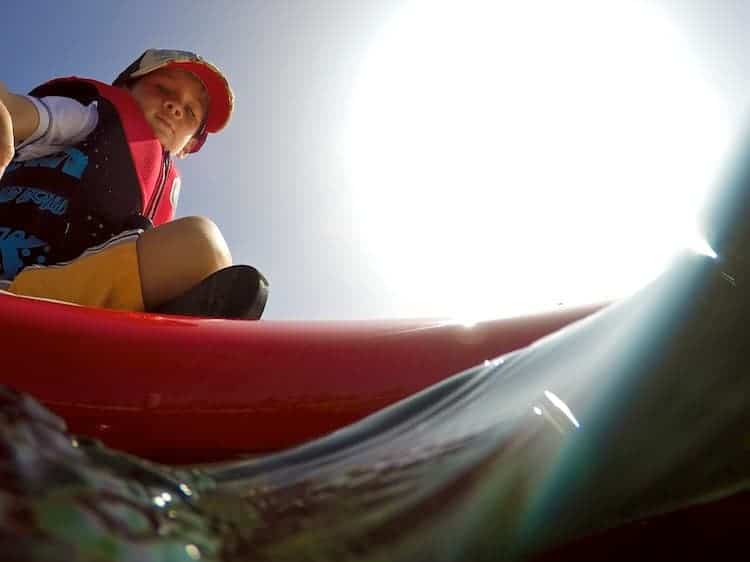 The sandy beach offers a great place for those not paddling to relax and enjoy the water or just catch some rays.
Warning: The parking lots at Mission Bay fill up quickly during the summer so come early and try to carpool.
Coronado Island
One sight of its miles of mica filled sand glittering in the sunlight and you will know why the beaches of Coronado Island are bringing home accolades left and right for best beaches.
There are four main beaches around the island: Central Beach, South Beach, Silver Strand State Beach, and North Beach. In our opinion, two of the best beaches to hit up for your paddling adventure are Central Beach and Silver Strand State Beach due to their on-duty lifeguards, showers and restroom facilities.
Either would make the perfect place to spend a few hours of paddle boarding and a few more hours of R&R on the beach. 
Planning a paddle boarding trip to Southern California? Pin this post for later!