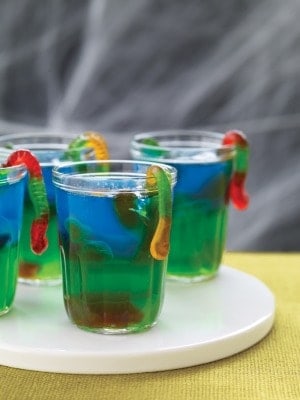 Halloween Jello Worms Recipe
I'm not sure what it is with kids and slime, but it certainly is a magical combination! My kids look forward to Halloween each year when I find a couple of fun Halloween treats to make from the Parenting Magazine website. They always have simple ideas to turn regular meals in to themed holiday celebrations that the kids love. I hope you enjoy these simple, slimy Jell-O snacks as much as we did!
Author:
Total time:
3 hours 15 mins
A cool, slimy treat that your boys and ghouls are sure to enjoy!
Ingredients
1 package lime Jell-O
1 package of another Jell-O flavor (cherry, berry-blue, or grape for example)
Gummy Worms
Instructions
Prepare the lime Jell-O as directed and divide between 8-ounce mason jars, clear bowls, or plastic cups. Only fill the bowls/cups halfway; refrigerate until firm.
Prepare the other Jell-O flavor as directed on package.
While second package of Jell-O is cooking, place three gummy worms on top of the set lime Jell-O and drape another worm over the top of the cup lip.
Pour the second batch of Jell-O over the worms, filling cups to the top; refrigerate.