Perfect for any patriotic holiday party or just to have as a sweet summer treat, this red white and blue fruit sticks recipe is easy to make and kid-friendly!
Memorial Day is almost here – how will you be enjoying the day? We're still in the thick of summer with back yard barbecues and long sunny days spent by our new pop-up pool. If you're enjoying the warmer weather too, here is a refreshing, easy red white and blue fruit sticks recipe that even the littlest can help make. This is a super fun project for kids of all ages and can be done ahead of time.
Stars and Stripes Fruit Sticks Recipe
Ingredients
1 watermelon, large enough for your star-shaped cookie cutters
1 package Blueberries
Wilton Cake Pop Sticks (or you could also use skewers, lollipop sticks, maybe popsicle sticks)
Star Shaped Cookie Cutter
Wash the blueberries and cut the watermelon into slices that are about ¾ of an inch thick, much thinner and they may not stay on the sticks.
Use the star-shaped cookie cutter for perfectly easy star shapes. Be sure to save the rest of the watermelon to use for a traditional fruit salad or to make a watermelon smoothie later!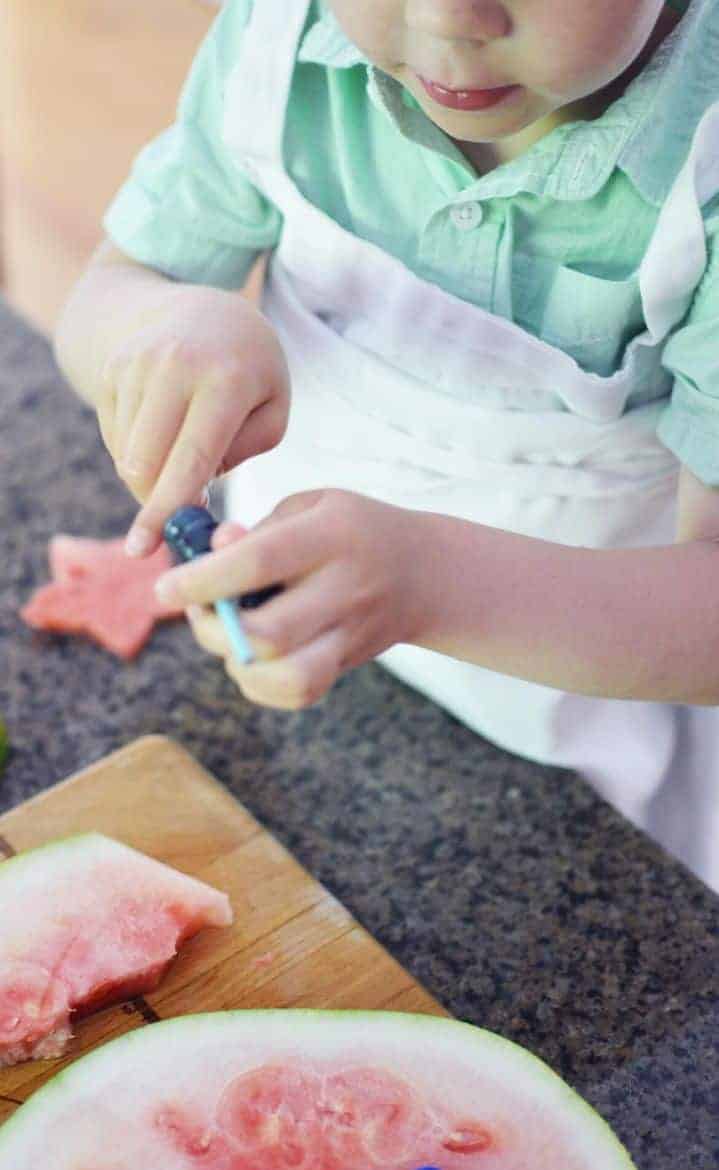 Add a few blueberries to one end of the stick and then slide the stick into one of the corners for the stars. Aiming for the middle so it will be balanced and stay in place, try to put the stick at least a 1/3 of the way into the melon.
Store chilled, lying flat and covered. Stand them up in a sturdy small vase or glass when ready to serve.
Pin this post for later!
If you're looking for some more red, white and blue inspiration, try:
Memorial Day BBQ Picnic Recipes: Drunk Corn, Tropical Chicken Sticks and Patriotic Fruit Parfait
Mini Mixed Berry Cobbler Recipe with Salted Caramel Pretzel Frozen Custard
9 Delightful Red White and Blue Dessert Recipes
Easy and Festive DIY Red White and Blue Decorations and Recipes